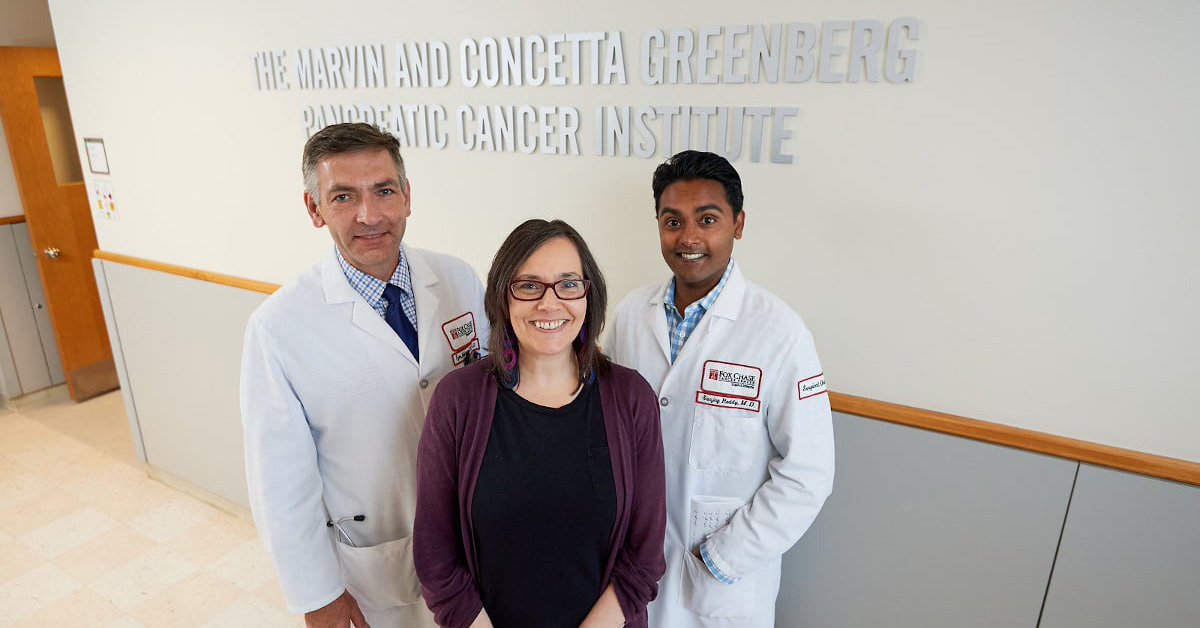 If you or your loved one has been diagnosed with pancreatic cancer, you will have many questions and decisions to make about your next steps. At Fox Chase Cancer Center, we have provided comprehensive approaches to cancer diagnosis, treatment and support for more than 100 years. Our pancreatic cancer specialists provide expert guidance so you can make informed decisions about your care and what is best for you and your family.
The Marvin and Concetta Greenberg Pancreatic Cancer Institute at Fox Chase, which opened in September 2017, is committed to achieving breakthroughs in early detection and treatment for pancreatic cancer. The Pancreatic Cancer Institute marks a record-breaking investment in the collaboration of our scientists, researchers and physicians. Our vision includes finding new ways to extend the lives of pancreatic cancer patients, to uncover the cancer earlier, and to someday find a cure.
Fox Chase Cancer Center also has been designated as a National Pancreas Foundation Center by the National Pancreas Foundation (NPF), a nonprofit organization that provides support for patients with pancreatic cancer and other pancreas-related diseases. Fox Chase is the only institution in the Philadelphia region to earn this distinction, and has been given a designation as both a clinical and academic center of excellence. 
We draw upon the nationally renowned experience of our multidisciplinary medical team as we tailor a treatment plan that is unique to you. The gastrointestinal oncology team reviews new or challenging cases in depth to reach consensus on treatment options and strategies. Through this coordinated approach, we strive to offer the most thorough and personalized care, as well as access to innovative therapies and clinical trials.
Your dedicated team includes not only physicians, surgeons, researchers and nurses, but also nurse navigators, social workers, nutritionists, and other specialized staff to provide emotional support and coping strategies. At Fox Chase, we take enormous pride in providing world-class care for our patients with pancreatic cancer.
Why Choose Fox Chase for Pancreatic Cancer Treatment?
Fox Chase has received the highest designation from the National Cancer Institute (NCI) as a Comprehensive Cancer Center, an elite center recognized for excellence in cancer treatment, research, prevention and education. This means our pancreatic cancer patients receive sophisticated care with a wide range of state-of-the-art treatment options.
The Marvin and Concetta Greenberg Pancreatic Cancer Institute at Fox Chase is rewriting the future of pancreatic cancer research. We support activities on every front in the fight against the disease, including the development of new treatment options and, we hope, an eventual cure.
Fox Chase physicians conduct numerous clinical trials for new pancreatic cancer treatments, giving our patients access to emerging and innovative therapies that may not be available anywhere else. The results of studies conducted by Fox Chase doctors have been crucial in advancing our understanding of pancreatic cancer diagnosis and treatment around the world.
Our pancreatic cancer physicians are consistently named to Philadelphia Magazine's annual Top Doctors list for excellence in surgical oncology, medical oncology and gastroenterology.
Our gastrointestinal surgical oncology team works continuously to develop new approaches to effectively treat pancreatic cancer, offering minimally invasive (laparoscopic and robotic) surgery where appropriate and optimizing the use of other cancer therapies with surgery.
Fox Chase physicians and investigators have received numerous awards and honors, including Nobel Prizes in medicine and chemistry. They are at the forefront of developing new treatments that can improve a patient's chances of recovering from cancer or having a better quality of life.
We provide a full spectrum of pancreatic cancer care — from detection through survivorship. Our multidisciplinary team is dedicated to providing exceptional care to both you and your family, including state-of-the-art diagnostics and treatment, vigilant follow-up care after recovery, referrals to community resources and support, and much more.
We provide next-business-day appointments with our pancreatic cancer specialists. You don't have to wait weeks or months for an appointment, a diagnosis or a second opinion.
Studies show that patients who begin their treatment at a hospital that specializes in cancer, like Fox Chase, have a better chance at survival.
"What separates Fox Chase from other places is the atmosphere and the environment. When somebody walks into this center, they get a different sense right away. It's much more close-knit, small, intimate, like a family. Our patient care starts immediately. That makes a huge difference for our patients in how they approach their disease and their treatment."

— Sanjay Reddy, MD, FACS, Department of Surgical Oncology and co-director of The Marvin and Concetta Greenberg Pancreatic Cancer Institute at Fox Chase