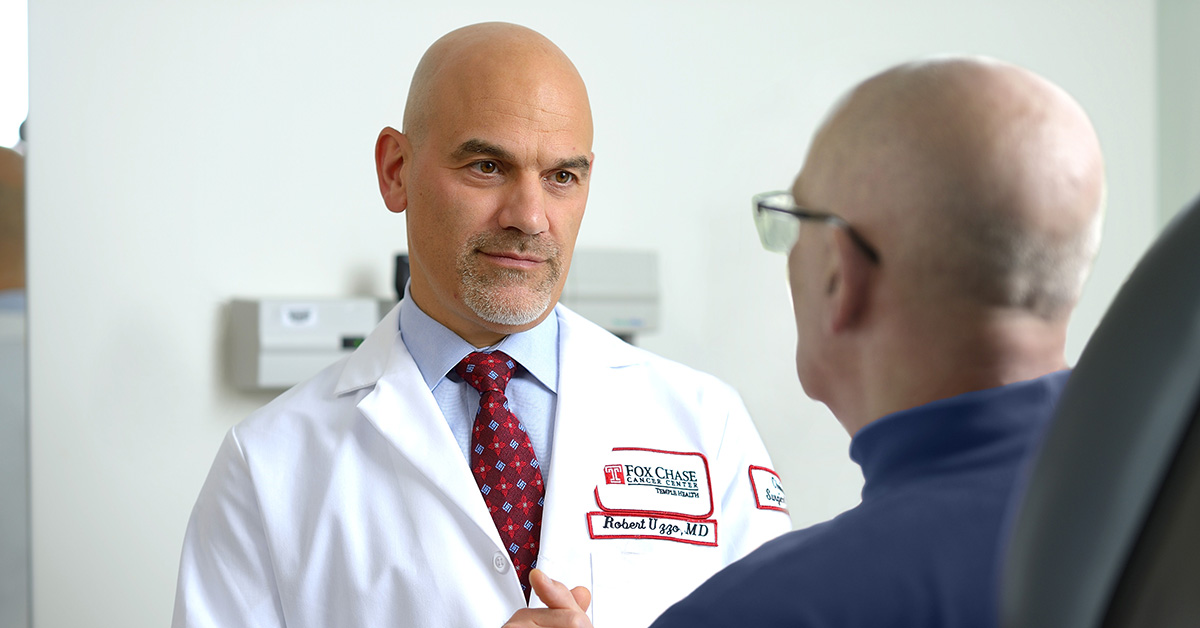 If you or your loved one has been diagnosed with kidney cancer, you will have many questions and decisions to make about your next steps. At Fox Chase Cancer Center, we have provided comprehensive approaches to cancer diagnosis, treatment, and support for more than 100 years. Our kidney cancer specialists will provide expert guidance for your care, so you can make informed decisions that are best for you and your family.
Our multidisciplinary cancer care team is a national leader in kidney cancer treatment, with deep expertise in kidney preservation, which leaves as much healthy kidney tissue in place as possible. Our clinical specialists are world-renowned cancer researchers, actively setting new standards for care excellence in kidney cancer. The results of research studies led by Fox Chase physicians have been presented to the international medical community and been instrumental in advancing kidney cancer diagnosis and treatment.
Our care philosophy puts patients first. Your dedicated team includes not only physicians, surgeons, researchers and nurses, but also patient navigators, social workers and other specialized support staff. As a key part of your team, they will provide emotional support, advice and coping strategies when you need them most.
Whether your kidney cancer is early-stage or more advanced, we carefully examine your case to tailor a treatment plan that is unique to you. Your team will coordinate your full spectrum of care, striving to offer the most thorough and personalized treatment options as well as access to innovative therapies and clinical trials. At Fox Chase, we take enormous pride in providing world-class care for patients with kidney cancer.
Why Choose Fox Chase for Kidney Cancer Treatment?
Fox Chase has received the highest designation from the National Cancer Institute (NCI) as a Comprehensive Cancer Center, an elite center recognized for excellence in cancer treatment, research, prevention and education. This means our kidney cancer patients receive sophisticated care with a wide range of state-of-the-art treatment options.
Our kidney cancer team is a pioneer and internationally recognized leader in kidney-sparing surgery, minimally invasive surgery as a standard treatment option, and active surveillance of small kidney tumors. Many patients who have been advised elsewhere that their kidneys must be removed have found alternative treatment options at Fox Chase that frequently allow preservation of their kidney and don't always require surgery.
Fox Chase doctors are world leaders in kidney cancer research. We also conduct numerous clinical trials for new treatments of kidney cancer, giving our patients access to emerging and innovative therapies that may not be available anywhere else.
Our physicians are consistently named to Philadelphia Magazine's annual Top Doctors list for excellence in radiation oncology, medical oncology and urology.
Fox Chase physicians and investigators have received numerous awards and honors, including Nobel Prizes in medicine and chemistry. They are at the forefront of developing new treatments that can improve a patient's chances of recovering from cancer or having a better quality of life.
We provide a full spectrum of kidney cancer care — from detection through survivorship. Our multidisciplinary team is dedicated to providing exceptional care and support to both you and your family, including state-of-the-art diagnostics and treatment, vigilant follow-up care after recovery, referrals to community resources that offer support to patients and families, and much more.
Our team offers significant experience with endoscopic, laparoscopic and robotic surgery, which means smaller incisions and potentially faster recovery time. 
See our kidney cancer specialists for an appointment or a diagnosis.
Studies show that patients who begin their treatment at a hospital that specializes in cancer, like Fox Chase, have a better chance at survival.
"For kidney cancer, I can't think of a better place — the surgical and medical oncology expertise, the clinical trials we have led, the cancer-focused multidisciplinary care and the environment you are in. This is a specialized team; this is all we do."

– Daniel Geynisman, MD, medical oncologist and kidney cancer specialist