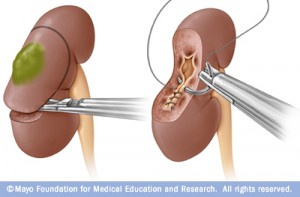 VIEW ALL POSTS
Partial Nephrectomy May Be a Better Treatment for Kidney Cancer
The Perils of Kidney Wasting Surgery for Kidney Cancer:

Why a partial nephrectomy is better than a total (radical) removal

During a partial nephrectomy, only the cancerous tumor or diseased tissue is removed (left), leaving in place as much healthy kidney tissue as possible. Partial nephrectomy is also called kidney-sparing surgery. 

(image courtesy of Mayo Clinic)

The broad application of cross sectional imaging has led to the incidental discovery of small renal masses (SRM) as the most common presentation for localized kidney cancer. Concurrent with this stage migration, technological efforts at nephron preservation via open, laparoscopic and robotic assisted techniques have evolved.

Moreover, partial nephrectomy is associated with excellent long-term oncologic success. Unfortunately, partial nephrectomy remains grossly underutilized. In a published Surveillance, Epidemiology and End Results (SEER) Program review of national practice patterns, only 9.6 – 25 percent of patients diagnosed with SRM underwent partial nephrectomy.

The long term implications for the wide spread use of "nephron wasting" surgery for the SRM have only recently been described. In a study of 662 patients with two kidneys and a SRM, the three year risk of Chronic Kidney Disease (CKD) stage III was 65 percent after radical nephrectomy and only 20 percent after partial nephrectomy. Moreover, in a large population study of over one million community based patients, decreases in Glomerular Filtration Rate (GFR) were associated with significantly higher risks cardiovascular events, hospitalizations and death.

In the 2007 there were 33, 875 additions to the kidney transplantation waiting list with 55 percent being over 50 years. In the same year, 40 percent of the patients waited more than two years and 20 percent of those listed were removed due to death or medical unfitness.

Targeted surgical approaches for localized renal cancer must consider oncological as well as "nephrological" endpoints. The perils of "nephron-wasting" surgery cannot be overlooked. While "radical" minimally invasive approaches may shorten convalescence and improve cosmesis, the physiologic trade-off must be considered. In 2013, it is incumbent on referring and managing physicians to consider nephron sparing surgery the primary gold standard for treatment of most localized renal malignancies.