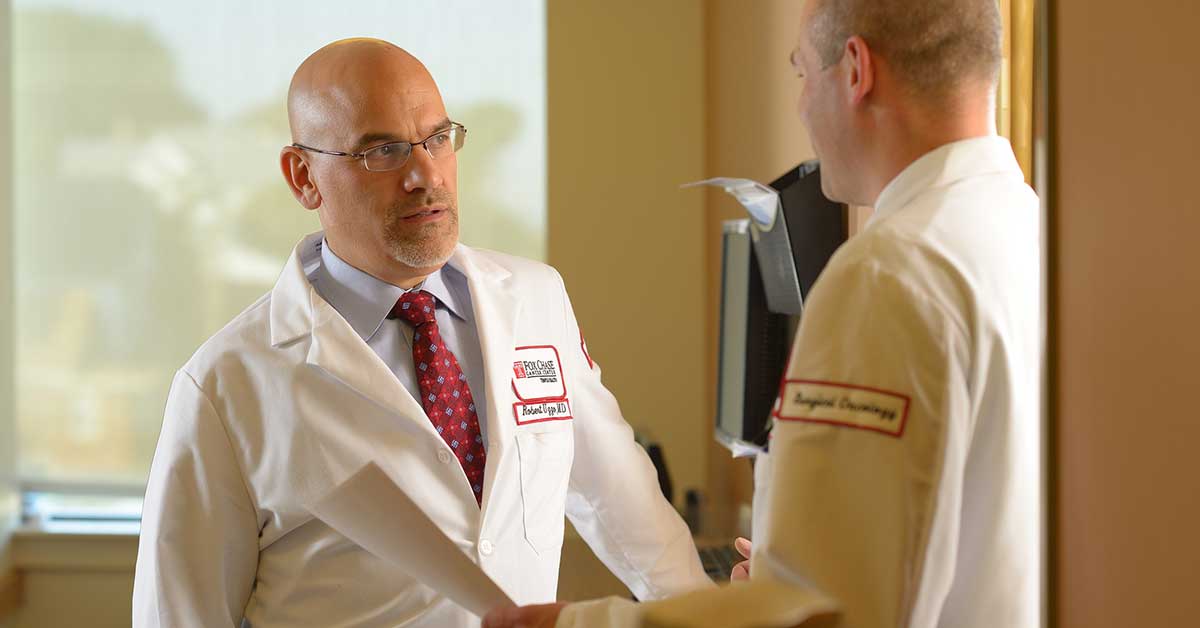 Fox Chase's nationally renowned kidney cancer specialists have pioneered many aspects of treatment and care for this disease. Our multidisciplinary team works with you to choose a personalized approach that offers the best chance of treating your cancer, preserving kidney function, and reducing the risk of recurrence.
When you contact Fox Chase, you will be connected with a nurse navigator. The nurse navigator will work to match you with the doctor who is right for you and help you see as many members of your treatment team as possible in one day. Together, these specialists weigh in on your case, create a tailored plan, and meet weekly to discuss your progress during treatment.
When a kidney mass is diagnosed as cancer, our kidney cancer team will address these three questions:
Can surgery be safely avoided or delayed? Some kidney cancers are small or slow-growing without symptoms, so they can be carefully observed over time. This is known as active surveillance. Fox Chase has pioneered this technique and has one of the largest experiences in the world on active surveillance of kidney tumors.
Can your kidney be preserved? Whenever possible, our surgeons will perform a partial nephrectomy, which removes the tumor and spares the kidney. Our doctors are national leaders in kidney preservation surgery. Over the last two decades, our number of partial nephrectomies is among the most in the nation.
Can minimally invasive techniques be used? As a pioneer of minimally invasive surgery for kidney cancer, Fox Chase surgeons have more than two decades of expertise in laparoscopy and robotics.
Our physicians have been actively involved in developing many of the new therapies currently available and on the horizon for treating kidney cancer. Through advanced clinical trials, we can offer our kidney cancer patients access to promising treatments and experimental therapies before they are approved, many of which may not be available elsewhere. Ask your Fox Chase oncologist if a clinical trial is right for you.
Your Treatment Options
After consultations with multiple physicians within our multidisciplinary team, your personalized treatment plan will be created based on the following factors:
The stage, type, and grade of your tumor
Whether it has spread to other organs
Your age, health history, and personal treatment goals
Depending on your unique circumstances, your treatment for kidney cancer at Fox Chase may include one or more of the following:
Surgery: Traditional open surgery removes the entire kidney and surrounding tissues. However, the Fox Chase team has decades of expertise and volume in kidney-sparing (partial nephrectomy) and minimally invasive surgeries for kidney cancer that they will consider first.
Systemic therapy: For kidney cancer, this usually means targeted drug therapy and immunotherapy. Chemotherapy is not a common primary treatment for most kidney cancer patients.
Clinical trials: At Fox Chase, we are continuously investigating new drugs and treatments. One of these treatments might be beneficial for you.
Other techniques our doctors may use to treat your kidney cancer:
Active Surveillance
Fox Chase physicians are international thought leaders and experts in the field of active surveillance, which is designed to avoid overtreating patients who have small kidney tumors that present no symptoms.
Patients who undergo active surveillance will be monitored closely with no treatment unless necessary. This may be possible for many kidney tumors that are smaller than 4 cm (approximately 1-1/2 inches). Fox Chase physicians have pioneered this strategy and published hundreds of papers and abstracts on its safety and efficacy in properly selected cases.
Tissue Ablation Treatments
Although used less frequently than surgery, ablation may be appropriate for older or sicker patients where surgery poses a greater risk. The following treatments may be guided by imaging technology, such as ultrasound, CT/CAT scans, or MRI scans:
In radiofrequency ablation (also called RFA or radioablation), doctors insert a special needle (probe) into the tumor and use high-energy radio waves to heat and destroy it.
In renal cryotherapy, physicians insert probes into the tumor tissue to freeze and then thaw it to destroy the cancer cells.
Radiation Therapy
Radiation therapy is less effective against kidney cancer and rarely used as a primary treatment. However, external beam radiation treatment can be used to treat symptoms such as pain, bleeding, or other problems in patients with advanced kidney cancer.
"We work with the patient to understand their unique situation, concerns and conditions, basing our recommendations on our own research, publications and extensive experience. In fact, physicians around the globe quote our research when counseling their patients. Our goal is to choose a path forward that is not just a doctor's opinion but is based in fact. We then communicate the risks and any trade-offs to our patients and ultimately help them make a healthier decision." – Robert Uzzo, MD, FACS, Chairman of Surgical Oncology