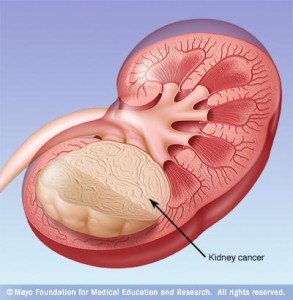 VIEW ALL POSTS
Is Active Surveillance Safe for Small Renal Masses?
With more frequent use of abdominal imaging, such as CT scan or MRI, the number of people diagnosed with small asymptomatic kidney tumors is rising rapidly.

However, 15-20 percent of these lesions are benign, and many are low grade indolent lesions that may not necessarily warrant treatment. Active surveillance, or close observation and frequent reassessment with radiographic imaging to monitor for disease progression, has emerged as an alternative management strategy in select patients with competing risks such as cardiovascular or pulmonary disease that makes them poor candidates for surgery.

New data presented at the 2013 Genitourinary Cancers Symposium by investigators from New York University Medical Center support the notion that a period of surveillance for small kidney tumors may be a safe and viable management strategy. Using Surveillance, Epidemiology and End Results (SEER) cancer registry data linked with Medicare claims, the authors identified more than 7,000 patients with kidney tumors less than four centimeters in size, of which 22 percent did not undergo surgical treatment in the first six months following diagnosis (the active surveillance group)1. When comparing patients who underwent immediate treatment (consisting of surgical resection with radical or partial nephrectomy and tumor ablation) and active surveillance, they found no difference in cancer specific survival. They were surprised to learn that patients treated with active surveillance had a lower risk of other cause mortality.

Surgery is the Gold Standard for Kidney Cancer

While interesting and provocative, these data should not be interpreted to mean that all patients with small renal tumors should be treated expectantly. The results of observational studies must be properly contextualized and these results are in a very select patient population that is not representative of the vast majority of patients presenting with kidney tumors. Although numerous studies have demonstrated that small renal masses may be observed with low risks of disease progression or metastasis in the short term2,3, in the United States more than 13,000 patients (or approximately 20 percent of those diagnosed) are expected to die of kidney cancer in 2013 alone. Due to the relative ineffectiveness of chemotherapy and radiation, and excellent cure rates with surgical management, tumor resection via partial or radical nephrectomy for localized disease has and will likely remain the gold standard therapy for the foreseeable future.

Until more definitive evidence exists, active surveillance should be reserved as an alternative to surgical resection for elderly comorbid patients, those at high risk for needing dialysis or patients that are otherwise poor surgical candidates.

References

1. Surveillance for the management of small renal masses: Utilization and outcomes in a population based cohort. (abstract #343, GU ASCO 2013; presenting author: William C. Huang, MD).

2. Crispen PL, Viterbo R, Boorjian SA, Greenberg RE, Chen DY, Uzzo RG. Natural history, growth kinetics, and outcomes of untreated clinically localized renal tumors under active surveillance. Cancer. 2009 Jul 1;115(13):2844-52.

3. Smaldone MC, Kutikov A, Egleston BL, Canter DJ, Viterbo R, Chen DY, Jewett MA, Greenberg RE, Uzzo RG. Small renal masses progressing to metastases under active surveillance: a systematic review and pooled analysis. Cancer. 2012 Feb 15;118(4):997-1006.