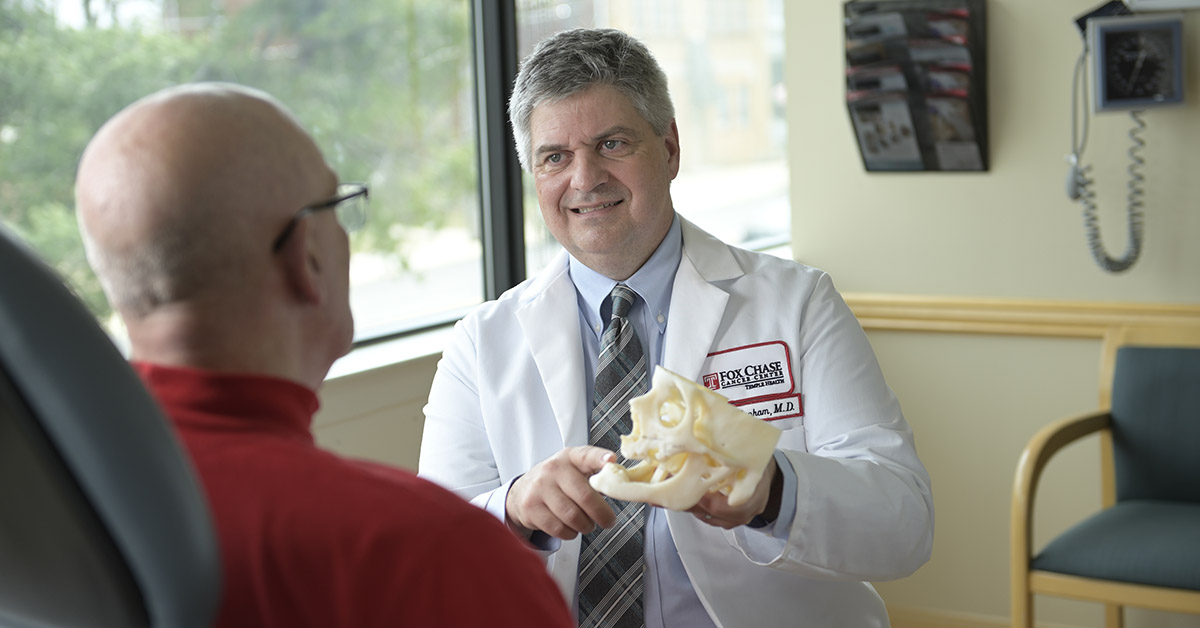 Surgery is the most common treatment for head and neck cancer. Patients who are initially told their tumor may be inoperable elsewhere may find that our surgeons at Fox Chase Cancer Center and the Temple Head & Neck Institute can offer a solution, given their depth of experience in complicated and advanced cases.
Our surgical team is highly experienced in robotics and other minimally-invasive techniques, including endoscopic thyroid surgery and endothyroid surgery. Fox Chase head and neck surgeons will explain fully what will happen during and after the operation, as well as what to expect.
In addition, patients have a wide array of available support services, including speech-language therapists and rehabilitation specialists devoted exclusively to recovery from cancer treatment; these specialists work closely with experienced reconstructive surgeons when needed.
The da Vinci® robotic surgical system.

Transoral Robotic Surgery (TORS) and Transoral Laser Microsurgery (TLM)
Surgeons at Fox Chase are revolutionizing treatment by removing cancers of the oropharynx (throat, tonsils, and base of the tongue) and larynx (voicebox) using the Intuitive Surgical Robot or Transoral Laser Microsurgery – both types of minimally invasive surgical methods.
For many patients, this means less scarring, bleeding, swelling and fewer infections. Recovery after Transoral Robotic Surgery (TORS) and laser microsurgery is more rapid than from many other cancer treatments.
In general, TORS is used to remove cancers in the oropharynx, while TLM is used to remove cancers in the larynx. There are several benefits to TORS and to laser microsurgery
Patients more often keep their ability to speak normally after microsurgery treatment of cancers of the larynx, or voicebox.
For some patients, it is not necessary to perform radical surgery. Often times, surgeons can reach the affected organ via the mouth. Surgeons do not need to use external incisions or cut through the jaw when using laser procedures or TORS.
For the right cancer (and the right patient), even advanced cancers can be treated with only small scars.
Fox Chase surgeons utilize the second generation da Vinci® robotic surgical system, the newest and most advanced minimally-invasive surgical instrument available today. Fox Chase is the one of the only hospitals in the Delaware Valley that offers the da Vinci S surgical system for head and neck cancers.
But, this type of surgery is not for every patient, or for every cancer. Important factors for this surgery include the size and location of the tumor, and the presence of cancerous lymph nodes help our surgeons determine the best course of treatment.
Plastic and Reconstructive Surgery
Some cancers are so large that curing them with an operation will require Fox Chase head and neck surgeons to perform larger procedures. When such treatment is necessary, plastic and reconstructive surgeons, as well as oral surgeons and prosthodontists at Fox Chase, will step in.
While such procedures are complex, requiring highly specialized teams, Fox Chase surgeons employ the most modern methods in reconstructive microsurgery to return patients as close as possible to the appearance and quality of life they previously enjoyed.