At Fox Chase Cancer Center, we believe delivering high quality clinical care should be convenient for our patients. Our radiation oncologists have worked to help pioneer an advanced treatment technique that is quickly becoming a standard of care for prostate cancer patients.
It's called hypofractionation.
Using hypofractionation, or hypofractionated radiation therapy, more doses of radiation are delivered per treatment, so patients can complete their course of radiation therapy much faster than conventional treatment and costs patients less money.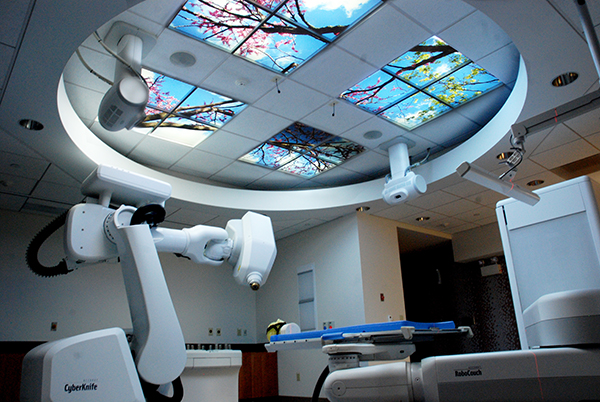 At Fox Chase, hypofractionation is delivered on regular linear accelerators or the CyberKnife, a linear accelerator on a robotic arm. 
Many clinical trials, including one of the largest American clinical studies initiated at Fox Chase Cancer Center, have proven hypofractionation to be just as safe and effective as conventional radiation therapy.
When appropriate, it can shave weeks off the traditional treatment length with the possibility of fewer short term side effects and a better quality of life.
Treatment Length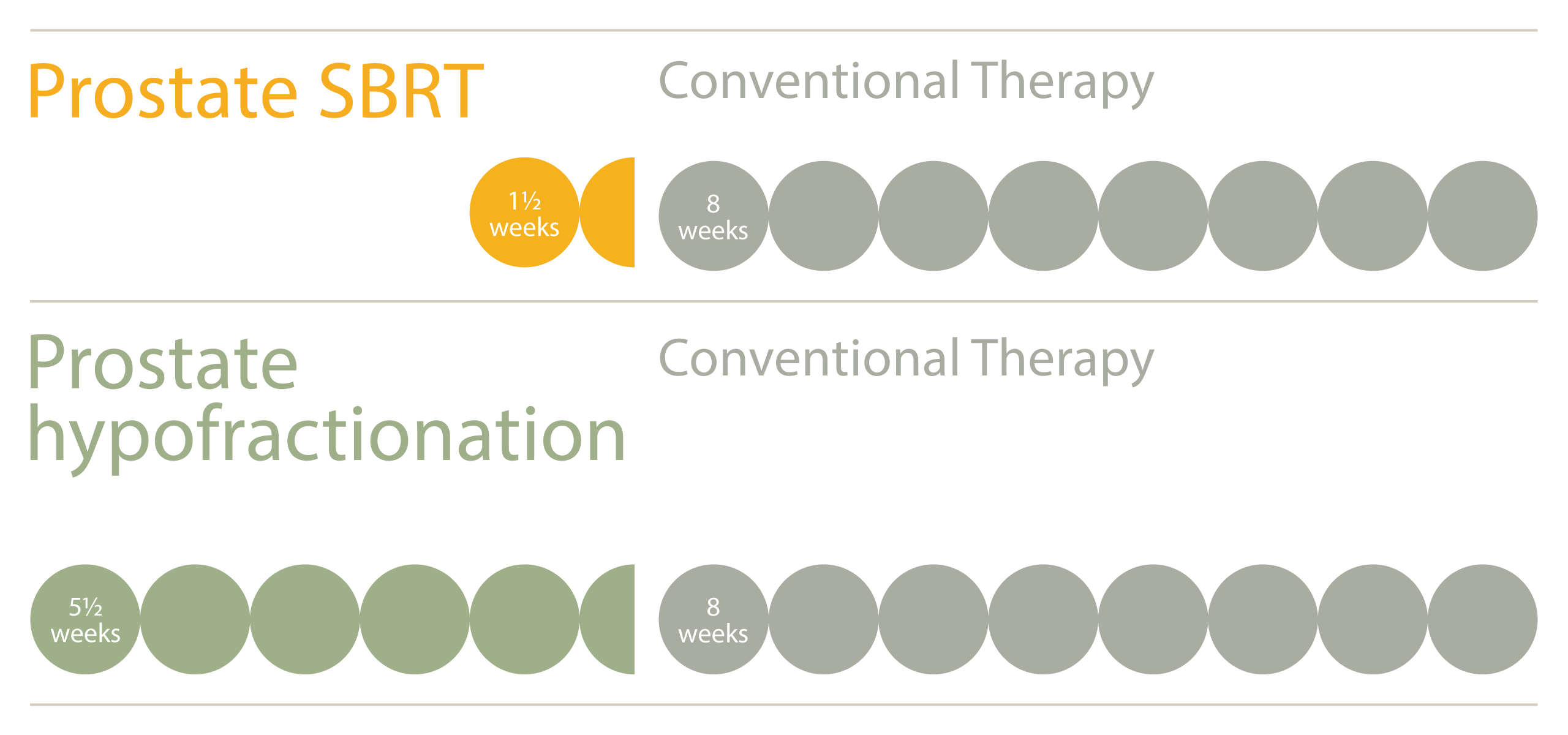 Though the length of treatment using hypofractionation depends on the cancer type being treated, prostate cancer patients can complete their treatment course in as little as 2 ½ weeks with extreme hypofractionation (SBRT) and 5½ weeks with hypofractionation - compared to conventional treatment which typically takes 8 weeks.
Two types of hypofractionation are used in prostate cancer. Fox Chase radiation oncologists have been performing both of these methods for many years:
Extreme hypofractionated radiation therapy, also known as stereotactive body radiation therapy (SBRT): Because prostate cancer is sensitive to higher fractionation, some men with intermediate-stage prostate cancer are eligible for extreme hypofractionated radiation therapy, which uses much larger doses of over just five total treatments. The treatment is given twice a week, over 2 ½ weeks.
Hypofractionated radiation therapy: In hypofractionated radiation therapy, slightly more radiation is giver per day so that the entire course of treatment takes approximately 5 ½ weeks. Treatment is delivered five days a week. 
How it's delivered
The treatment team can use three image guidance approaches to ensure that both hypofractionation and conventional radiation therapy target the prostate precisely and the radiation dose to the bladder and rectum is minimized. These approaches include:
The patient receives a daily CT scan immediately before treatment while in position on the treatment table. A computer compares the scan with the original planning CT scan, and small adjustments are made as necessary to ensure that the radiation goes exactly where it should. This process is called localization. The radiation from the daily CT scan is minimal and is incorporated into the total dose of radiation the patient receives, so they are not receiving any extra radiation dose.
One of the urologic oncologists places four gold seeds in the prostate before the simulation process. Each day, the patient is positioned before treatment based on the location of the gold seeds.
With the Calypso beacon system, the radiation oncology team places three radiofrequency transponders called beacons in the prostate during the planning process. These beacons allow the team to localize the prostate prior to the start of radiation and monitor movement in real time, called tracking, during the treatment and make adjustments as necessary. The Calypso system is the only system in the world that allows for real-time tracking of the prostate while the radiation treatment is happening.  This process assures the radiation oncology team that the prostate is precisely located throughout the entire treatment.  Fox Chase is among the world's most experienced centers in using the Calypso system.
All modern radiation therapy at Fox Chase, both external and internal, minimizes damage to surrounding tissue and structures, and involves fewer side effects than surgery. Incontinence and erectile dysfunction, for instance, are less common after radiation therapy than following surgical treatment.
Our radiation oncologists have been at the forefront of helping to develop advanced treatment planning programs for prostate cancer, including real-time treatment planning during procedures for the temporary HDR and permanent LDR prostate implants, Calypso beacons for hypofractionation and conventional radiation therapy patients, and utilizing MRI scans in the treatment planning process.