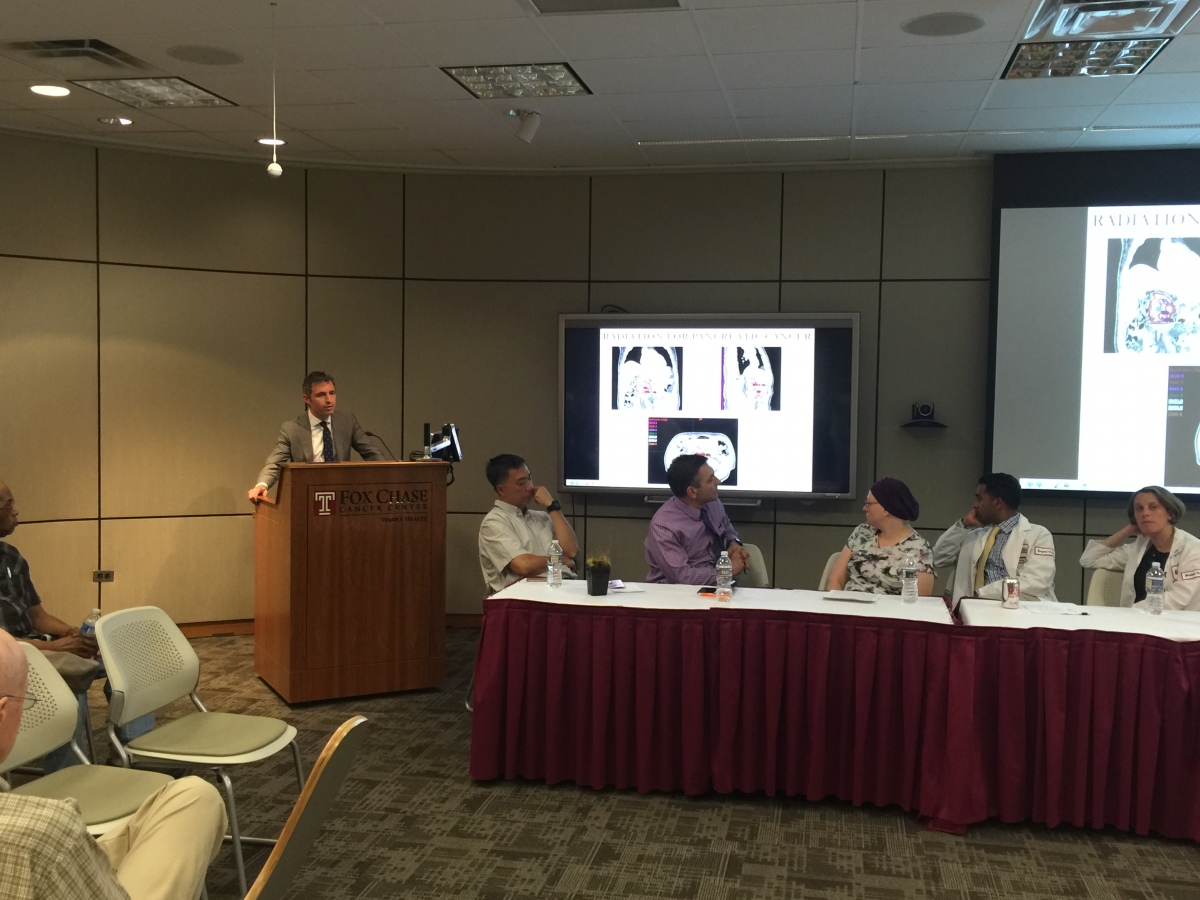 VIEW ALL POSTS
Together Facing Pancreatic Cancer Event Highlighted Developments in the Field and Patient Stories
The urgent need for clinical trials and new therapies was on full display when Fox Chase Cancer Center and the Pancreatic Cancer Action Network joined forces for Together Facing Pancreatic Cancer, an event uniting patients, friends, family, clinicians, and researchers.

Led by Igor Astsaturov, MD, PhD, a medical oncologist at Fox Chase, the event on June 15 began with several Fox Chase clinicians and researchers speaking about treatment, research, and developments in the field.

Before the educational portion of the night kicked off, guests enjoyed a catered dinner and mingled among themselves and their doctors, with some patients even bringing small gifts to their doctors as a token of their appreciation.

The panel speakers included John Hoffman, MD, a surgical oncologist who specializes in pancreatic cancer; medical oncologist Efrat Dotan, MD; surgical oncologist Sanjay S. Reddy, MD; radiation oncologist Joshua Meyer, MD; Edna Cukierman, PhD, coleader of the Pancreas Research Interest Group and chair of the Institutional Biosafety Committee; Carolyn Y. Fang, PhD, coleader of Cancer Prevention and Control; and Tim J. Yen, PhD, facility director of the Biological Imaging Facility. The panel covered topics including the Whipple surgery, clinical trials and the development of new therapies, neoadjuvant chemotherapy and borderline resectable cases, radiation therapy, symptom management and quality of life, and basic research aimed at determining why pancreatic cancer is so difficult to treat.

Though the audience listened with rapt attention to the panel, Fox Chase patient Melissa Kartasevich stole the spotlight when she shared the story of her ongoing fight with pancreatic cancer. First diagnosed in 2013, Melissa fought hard for her health and was considered cancer free, but the cancer returned in her fallopian tube earlier this year. Melissa, who has a 9-year-old daughter and was newly engaged at the time of her diagnosis, is now participating in a clinical trial.

"I'm just fighting and getting through it day by day," she said through tears to a crowd who gave a round of thundering applause. "I'm going to fight it and do what I can."

Following this moving and educational event, the Pancreatic Cancer Action Network held its June affiliate meeting. In addition to introducing the local chapter, the network speakers discussed the various events in which they are involved, such as the PurpleStride Philadelphia 5K Walk/Run, a family-oriented walk and run held in November.