At Fox Chase Cancer Center, we believe delivering high quality clinical care should be convenient for our patients. Our radiation oncologists have worked to help pioneer an advanced treatment technique that is quickly becoming a standard of care for breast cancer patients.
It's called hypofractionation.
Using hypofractionation, or hypofractionated radiation therapy, more doses of radiation are delivered per treatment, so patients can complete their course of radiation therapy much faster than conventional treatment and costs patients less money.
Hypofractionation can shave weeks off the traditional treatment length with the possibility of fewer short term side effects and a better quality of life for our patients.
Treatment Length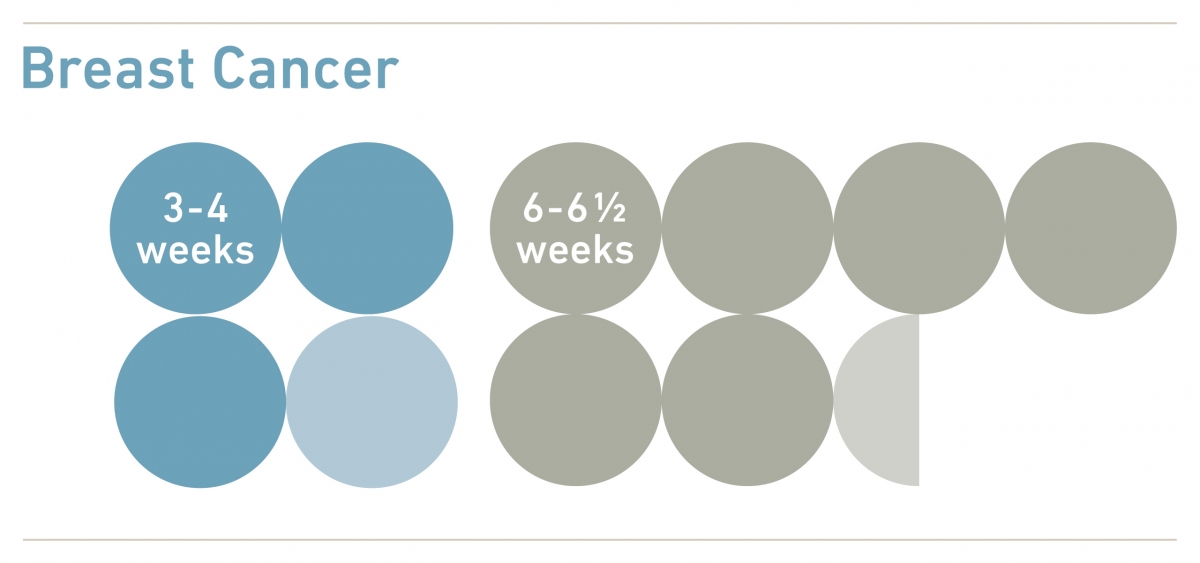 Though the length of treatment using hypofractionation depends on the cancer type being treated, breast cancer patients can complete their treatment course in as little as 3 to 4 ½ weeks when appropriate – compared to conventional treatment which typically takes 6 to 6 ½ weeks.
Pioneers in Advanced Treatment Techniques
Many clinical trials have proven hypofractionation to be just as safe and effective as conventional radiation therapy.
Investigators at Fox Chase Cancer Center initiated one of the largest American clinical studies in 2003 comparing breast cancer patients treated with hypofractionation and patients treated using standard radiation therapy.
In 96 percent of patients who received either hypofractionation or standard therapy, there was no evidence of cancer growth at the site of origin eight years later. There was also no significant difference between the two groups in overall survival rates, risk of death related to breast cancer, risk of distant metastases, cosmetic appearance, or long-term side effects.
Forty-six percent of patients treated with conventional therapy experienced short-term, moderate to severe complications that primarily affected the skin, compared to just 20 percent of patients treated with hypofractionation.