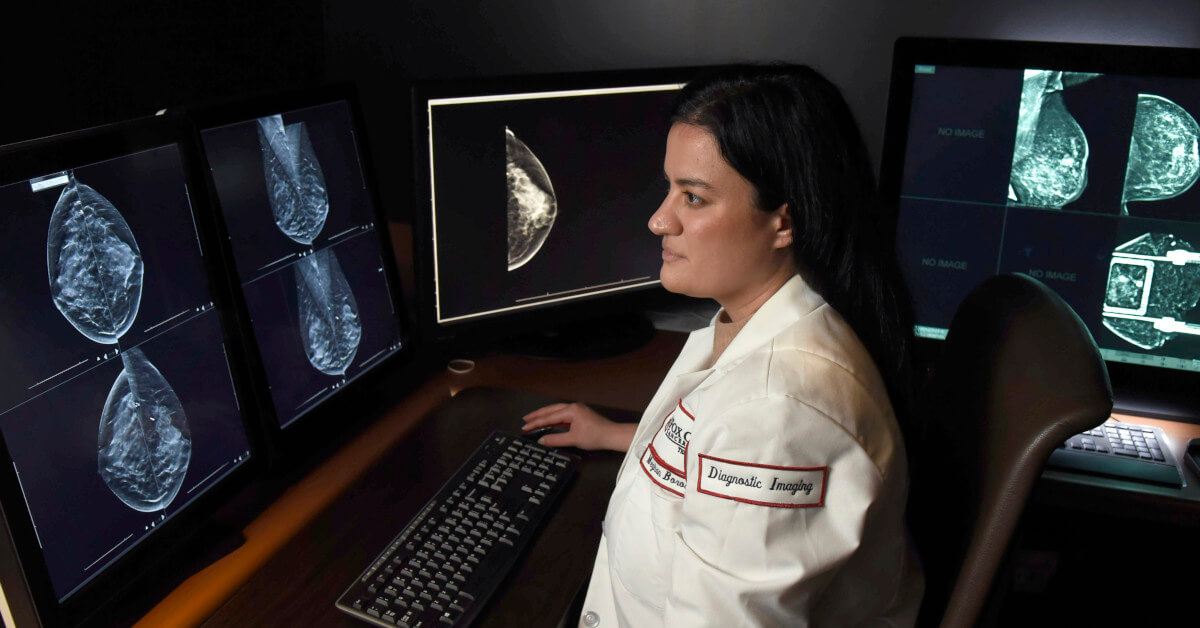 Breast cancer screening often detects precancerous and cancerous breast tissue that may be present in otherwise healthy individuals. If diagnosed and treated in the initial stages, breast cancer is one of the most treatable forms of cancer. As a result, it is vital that women are screened regularly at the frequency recommended by their physician.
Fox Chase Cancer Center offers the latest breast cancer screenings and diagnostic techniques available. Test results are reviewed by physicians specializing in breast cancer.
Breast Cancer Screening Tools
These low-dose breast X-rays let doctors find abnormal changes in breast tissue. Typically, two pictures are taken of each breast—one from the side and one from above.
This screening test involves a low-dose X-ray machine sweeping over the breast and taking multiple images from different angles. After this is done, a computer is used to combine all of the images to create multiple thin pictures of the breast. These pictures give doctors a clearer view of the breast tissue and, as a result, 3D mammograms may reduce the number of callbacks for false alarms (which suggest cancer may be present when it isn't).
3D mammograms are appropriate for all women but are especially beneficial for women with dense breasts (breasts that have a lot of fibrous or glandular tissue and not much fat). Women with dense breast tissue may still benefit for other types of breast imaging in addition to mammography, such as ultrasound or MRI.
For some women at higher risk of developing breast cancer, a breast MRI (which uses radio waves and strong magnets to take pictures of the inside of the breast) may be recommended in addition to a mammogram. Breast MRI may also be used as a supplemental screening tool in addition to mammography for some women at average risk with dense breast tissue.
Ultrasound (using sound waves to make a computer picture of the inside of the breast) might be used in addition to mammography if there are lumps that can be felt but aren't seen on a mammogram, as supplemental screening in addition to mammography for dense breast tissue, or to further characterize a mammogram finding.
Clinical breast exam

Conventional digital mammography

3D mammography (or tomosynthesis)

Breast magnetic resonance imaging (MRI)

Breast ultrasound
When Should You Get Screened for Breast Cancer?
It is recommended that all women over the age of 25 undergo formal risk assessment for breast cancer.
If you're found to be at average risk for breast cancer, you should undergo annual screenings beginning at age 40. These annual screenings should continue until your life expectancy is less than 10 years.
Genetic Testing for Breast Cancer
Fox Chase's Risk Assessment Program provides thorough risk assessment and genetic counseling to high-risk women for the prevention of breast and gynecologic cancers.
Inherited Factors

Your family history gives a clue. Learn more about hereditary factors that increase or decrease your risk of breast cancer.

The High Risk Breast and Ovarian Clinics offer you care from experts in cancer risk and prevention.

Risk assessment is for individuals with a family history of breast and/or ovarian cancer, those who have been found to have a cancer gene mutation, or individuals who have had a biopsy showing benign breast disease. Women who have had breast or ovarian cancer are eligible for testing.
Clinical Care to Help Reduce Your Cancer Risk
The Risk Assessment Clinic offers a range of cancer screening and prevention services tailored just for you including:
State-of-the-art cancer screening and dedicated radiologists
Detailed evaluation of individual risk
Personalized screening plan and prevention options
The opportunity to participate in clinical trials and research studies looking at new approaches for early detection and risk reduction