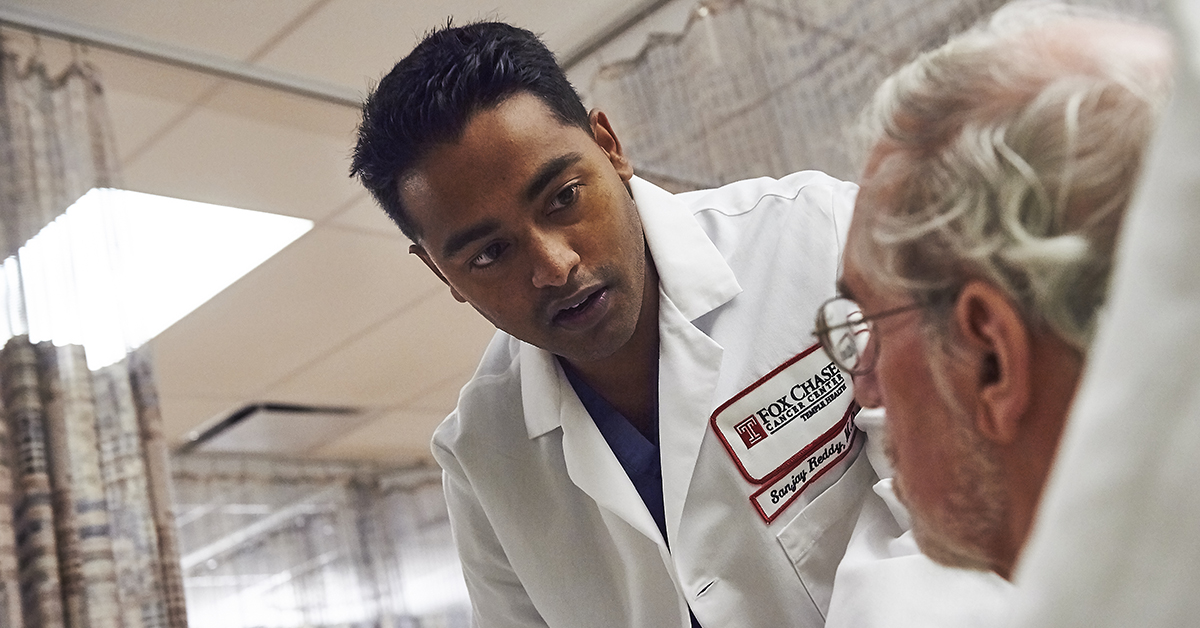 VIEW ALL POSTS
Hope for Pancreatic Cancer
Updated November 10, 2020

Pancreatic cancer is notoriously challenging to diagnose and treat. Now that researchers are learning more about the disease, treatment options are expanding, and The Marvin and Concetta Greenberg Pancreatic Cancer Institute at Fox Chase Cancer Center is at the forefront of finding better ways to help people with the disease live longer.

The challenge explained

The pancreas makes enzymes to help digest food. It also creates hormones like insulin and glucagon. This small organ sits behind the stomach. In adults, it's about six inches long and less than two inches wide.

The petite size and hidden location of the pancreas can make it difficult to detect early tumors. "People with pancreatic cancer may first see a doctor for jaundice, but otherwise have few symptoms. Unfortunately, the majority of patients have metastatic disease, and that makes treatment challenging," said Sanjay S. Reddy, MD, FACS, a surgical oncologist at Fox Chase.

Several risk factors can increase the risk of pancreatic cancer, though often the cause isn't known.

Like many other cancers, the risk for pancreatic cancer increases with tobacco use, obesity and older age. More men are diagnosed with the disease than women, and African Americans have higher rates of pancreatic cancer than other ethnic groups. A family history of the disease or rare genetic syndromes might raise some people's risk, and the disease is more common in people with type 2 diabetes.  

Where you are treated matters

Because pancreatic cancer is a complex disease, it's important to seek treatment at a large cancer center if you or a loved one are diagnosed with it.

"This is probably the most important thing you can do," Reddy said.

"This disease is not treated by a single individual—it's treated by a team," he explained. "When you come to a place like Fox Chase, for example, you see a surgeon, a medical oncologist, and a surgical oncologist. Pancreatic cancer is a disease that's become multidisciplinary in nature. We're all involved in planning, treatment and care. These are challenging cases that take a lot of thought and expertise, and each patient receives completely individualized care."

The future of pancreatic cancer

Pancreatic cancer treatment at Fox Chase is geared towards the mission, to help the community of patients afflicted with this disease. Thanks to the research arm of the Greenberg Pancreatic Cancer Institute, it plays a significant role in new ground breaking therapies. Many patients allow their tissue and blood samples be used in our cancer research, and this is how breakthroughs are made," Reddy said.

There's been good progress in treating pancreatic cancer over the last 10 years, and people who are diagnosed with the disease have reason to be positive.

"People shouldn't think that if they have this diagnosis, there's nothing they can do," Reddy said. "We have better chemotherapies, better radiation therapies and more sophisticated surgical techniques. We're pushing the envelope, and there is hope. At Fox Chase, we're looking at every possible alternative and different new therapy out there to help push the science of pancreatic cancer forward."

Learn more about the research happening to advance pancreatic cancer treatment and the Marvin and Concetta Greenberg Pancreatic Cancer Institute.