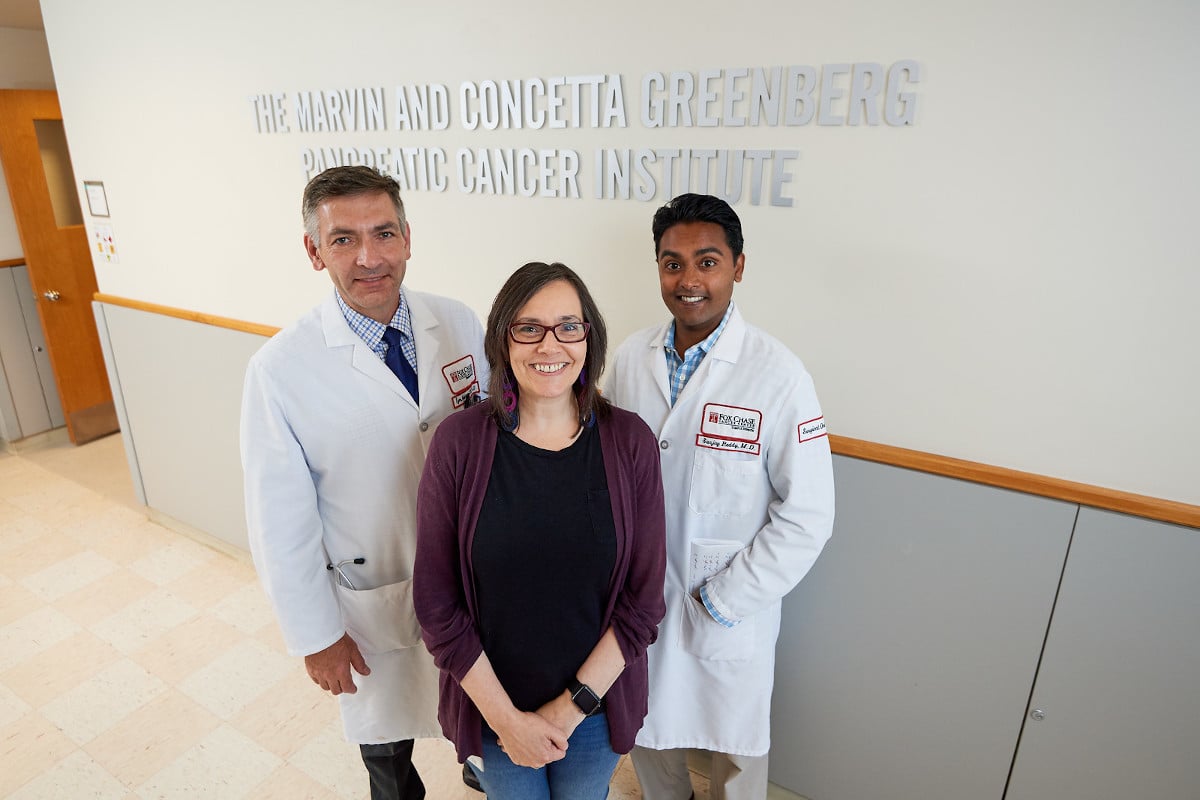 Pancreatic cancer is on track to become the second leading cause of cancer-related death in the U.S., and yet, the disease remains alarmingly under-studied. The Marvin and Concetta Greenberg Pancreatic Cancer Institute at Fox Chase Cancer Center, hopes to change that.
Since its opening in September 2017, the Institute has been committed to achieving breakthroughs in both early detection and treatment options for pancreatic cancer under the leadership of co-directors (pictured left to right) Igor Astsaturov, MD, PhD, Edna Cukierman, PhD, and Sanjay S. Reddy, MD, FACS.
Fox Chase is a renowned leader in pancreatic cancer detection and treatment and is the only cancer center in the Philadelphia region to be designated as a both a Clinical and Academic Center of Excellence for Pancreatic Cancer by the National Pancreas Foundation. We know that collaboration between our researchers and physicians is integral to the success of our efforts, and our dedication to this at the Institute will lead to even more clinical trial options for patients.
The Institute's vision is built on finding new ways to extend the lives of pancreatic cancer patients and uncovering pancreatic cancer earlier (with the hope of one day finding a cure).
At the Institute, a multidisciplinary team of researchers and physicians will work together to develop innovative ideas to disrupt pancreatic cancer metabolism/the connective tissue stroma reaction (desmoplasia) that promotes immunosuppression. They also work towards nominating new targets for drug development. In addition to a world-class basic science program, the Institute boasts an active translational research program (research that can be taken to the clinic) and an active clinical research team that has focused on the concept of neoadjuvant therapy (presurgical therapy) for those with pancreatic cancer.
Clinical Expertise
At Fox Chase, we draw upon the nationally recognized expertise of our multidisciplinary medical teams, as well as basic and translational research, to work towards the same goal of improving pancreatic cancer treatment.
Specifically, the clinical team is leading efforts to understand how pancreatic tumors continue to get essential nutrients once they lose their blood supply. Pancreatic cancer is able to cut off the patient's anti-tumor immune system and still be able to grow. We want to understand this puzzle so we can, turn the immune system back on and stop the specialized growth.
Our clinical pancreatic cancer program includes a team of nationally renowned medical, surgical, and radiation oncologists, who work together to provide a full spectrum of care for pancreatic cancer—from detection through survivorship.
This program also offers genetic testing of pancreatic cancer patients and their families as well as cancer risk assessment spearheaded by Michael J. Hall, MD, MS, innovative surgical procedures (such as the Whipple procedure and neoadjuvent therapies) and access to clinical trials for emerging and innovative therapies.
Research Expertise
The Institute was established in 2017 with the goal of rewriting the future of pancreatic cancer research and accelerating the development of new cures and treatment options.
Under the direction of research leader Edna Cukierman, PhD, the Institute's vision is to establish a world class research and clinical program to investigate the fundamental challenges of pancreatic cancer biology, which could lead to the discovery of breakthrough therapies.
Several laboratories already funded by National Cancer Institute research grants are working together to develop ideas for additional collaboration. The team is addressing pancreatic cancer metabolism and reciprocal signaling between cancer cells and cancer-associated fibroblasts that alter the active stromal (desmoplastic) immunosuppressive milieu. The goal is to harness the body's natural immune protection machinery and identify new targets for future drug development.
In this way, the team plans to continue our history of success and propel Fox Chase to the forefront of pancreatic cancer research nationwide. Our goal is to make a significant and meaningful difference for pancreatic cancer patients and their loved ones.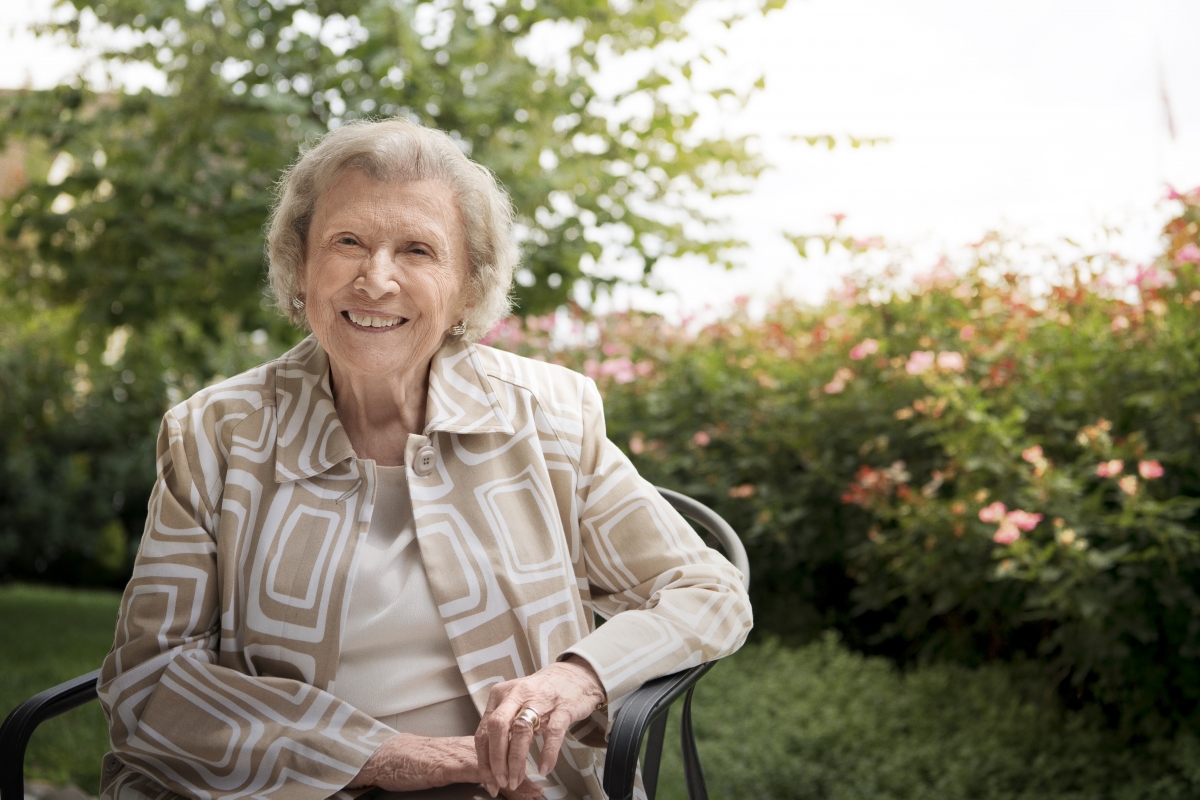 Philanthropy
Fox Chase Cancer Center was honored to partner with visionary philanthropist Concetta Greenberg to establish The Marvin and Concetta Greenberg Pancreatic Cancer Institute. Mrs. Greenberg established the Institute in honor of her late husband who died of pancreatic cancer. Mrs. Greenberg has a longstanding relationship with Fox Chase pancreatic cancer research projects.
With Mrs. Greenberg's support, the Institute established:
A unified pancreatic cancer clinical and research database, encompassing comprehensive clinical, genetic, and treatment data linked to a large collection of pancreatic cancer biological samples and patient derived xenografts.
An informatics infrastructure to establish comprehensive protocols for clinical data collection, a Pancreatic Cancer Clinical Pathway to streamline the process of evaluation, multidisciplinary treatment assessments, and additional access to clinical trials for patients
Procedures for rapid tissue procurement and blood collection for genetic and biological testing, with immediate attention to the needs of pancreatic cancer patients
Ongoing efforts to identify families at risk and establish an early detection program that will be accompanied by basic science initiatives
Clinical trials and novel basic research initiatives that will assure current and future supply of clinical effort
How to Support The Marvin and Concetta Greenberg Pancreatic Cancer Institute at Fox Chase Cancer Center
We're excited for this opportunity to advance the field of pancreatic cancer research, but there's still so much work to be done.
If you'd like to donate to support this Institute and our research efforts, you can contribute at donate.foxchase.org/PancreaticInstitute. Or, connect with our Institutional Advancement Department at FoxChase.org/Giving or 215-728-2745.