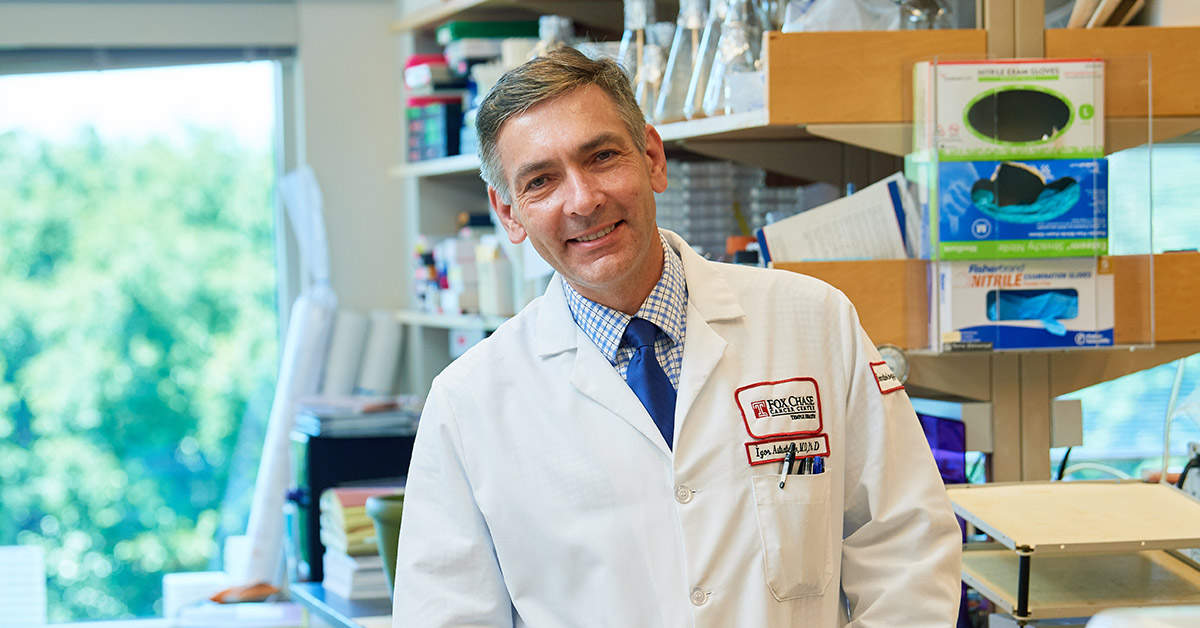 PHILADELPHIA (September 15, 2022)—Researchers at The Marvin and Concetta Greenberg Pancreatic Cancer Institute at Fox Chase Cancer Center have found that a new synthetic lethal agent could be an effective treatment for pancreatic cancers with DNA damage repair (DDR) defects.
Igor Astsaturov, MD, PhD, a co-director of the institute and an associate professor in the Department of Hematology/Oncology at Fox Chase, presented preclinical data detailing the activity of this agent—LP-184—in pancreatic cancer at the American Association for Cancer Research Special Conference: Pancreatic Cancer.
LP-184 is an acylfulvene analog that becomes an active alkylating agent when it comes into contact with cancer cells with prostaglandin reductase 1 (PTGR1), a member of the oxidoreductase enzyme family.
The ability of LP-184 to kill tumor cells is enhanced in the presence of DDR defects. It could be effective in treating the approximately 40% of pancreatic cancers that have elevated PTGR1, approximately two-thirds of which also have deleterious mutations in commonly altered DDR genes.
Astsaturov and scientists from Lantern Pharma Inc., which is developing the drug, evaluated the antitumor effects of LP-184 in two mouse models, each of which had a mutation in the DDR signaling pathway. LP-184 treatment resulted in sustained tumor regression in both, according to the results, which were presented at the meeting in Boston, which is being held September 13-16.
In the mouse model harboring mutations in ATR, two cycles of LP-184 resulted in 140% tumor growth inhibition. In the model with BRCA1 mutations, LP-184 resulted in 112% tumor growth inhibition. 
"We also tested LP-184 in combination with various standard-of-care options, including radiotherapy, and found that it is synergistic in vitro and in vivo," Astsaturov said. "One potential mechanism for this is that PTGR1 is induced upon radiation treatment in response to oxidative stress. The tumor is subjected to oxidative stress and becomes more vulnerable to the action of the drug."
The researchers also found that the drug was well-tolerated, with minimal effects on body weight or blood counts. Astsaturov said LP-184 could be effective in not only a significant subset of pancreatic cancers, but in a variety of other solid tumors that carry DDR and express high levels of PTGR1.
The Food and Drug Administration has granted orphan drug designation for the use of LP-184 in the treatment of pancreatic cancer and Astsaturov and colleagues plan to launch a clinical trial of it in humans. The trial would enroll patients with solid tumors that carry DDR pathway mutations. They also plan to conduct a retrospective analysis to determine if there is any correlation with outcomes and levels of PTGR1 expression at the mRNA level.
"This new kind of chemotherapy drug is potentially very active in a subset of tumors that carry DDR mutations, and the activity of the drug depends on high levels of expression of PTGR1," Astsaturov said. "This is a biomarker that could be used in the clinic to select appropriate types of cancer that would be more likely to benefit from this agent."
The title of the presentation is "LP-184, a Tumor Site Activated Small Molecule Therapeutic, is Synthetically Lethal in Pancreatic Cancers With DNA Damage Repair Defects."