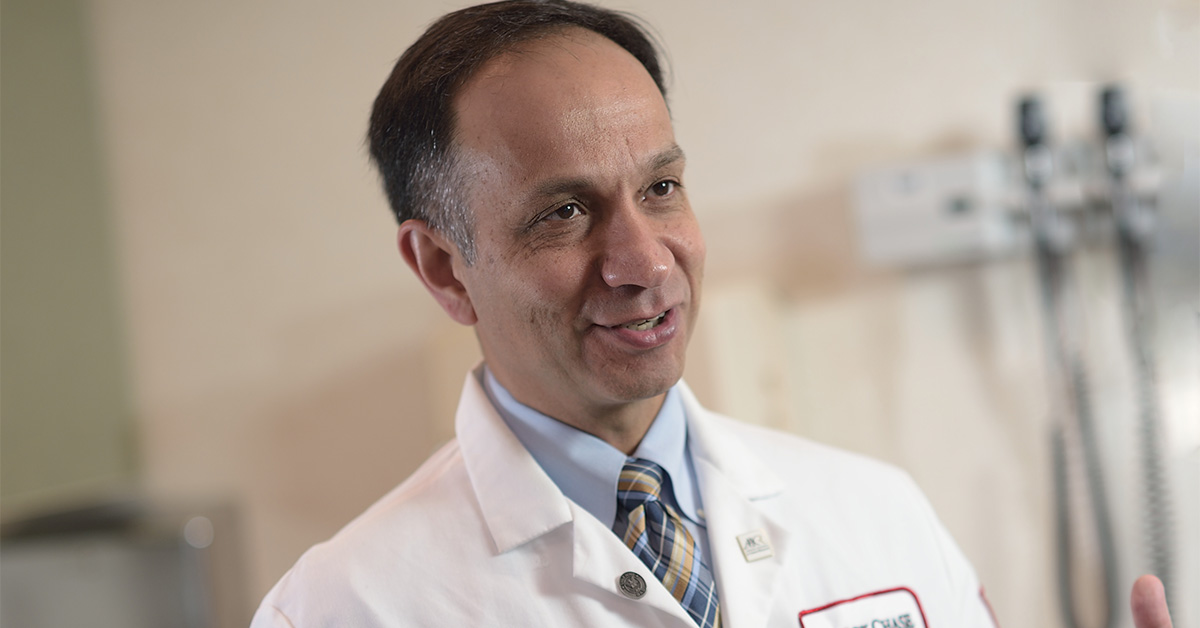 If you've been diagnosed with lung cancer, your path forward can seem uncertain and even frightening. It can be hard to know what choices to make to protect your own health and future. That's when it becomes vital to have a team of experienced specialists that can provide expert guidance through your diagnosis, care, and treatment.
The medical team at Fox Chase Cancer Center is renowned for its expertise in lung cancer therapies. We're dedicated to developing a customized lung cancer treatment plan to provide for each of our patients.
At Fox Chase, you'll be working with a nationally recognized medical team with expertise in a variety of areas. These team members include physicians, surgeons, researchers, nurses, patient navigators, and a variety of specialized support staff.
Whether your lung cancer is early-stage or more advanced, your treatment plan will be designed to control the cancer, preserve your lung function, and reduce the risk of recurrence.
Our thoracic oncology team collaborates to review each patient in depth. Through this coordinated approach, you'll receive thorough and personalized care, as well as access to innovative therapies for your lung cancer.
Whether you're newly diagnosed or transferring from another hospital, we're committed to helping you benefit from our team's full spectrum of expertise.
Why Choose Fox Chase For Your Lung Cancer Treatment?
Here's what sets Fox Chase apart from many other cancer centers:
We have received the highest designation from the National Cancer Institute (NCI) as a Comprehensive Cancer Center, an elite center recognized for excellence in cancer treatment, research, prevention, and education. This means patients receive sophisticated care with a wide range of state-of-the-art treatment options.
Studies show that patients who begin their treatment at a hospital that specializes in cancer, like Fox Chase, have a better chance at survival.
Fox Chase physicians and investigators have received numerous awards and honors, including Nobel Prizes in medicine and chemistry. They're at the forefront of developing new treatments that can improve a patient's chances of recovering from cancer or having a better quality of life.
We provide a full spectrum of care for lung cancer—from detection through survivorship. Our team is dedicated to providing exceptional care and support to both you and your family, including state-of-the-art diagnostics and treatment, vigilant follow-up care after recovery, referrals to community resources that offer support to patients and families, and much more.
Our team offers significant experience with endoscopic, laparoscopic, and robotic surgery. This means smaller incisions and a potentially faster recovery time from surgery.
We also offer access to clinical trials, which means you have access to emerging and innovative therapies for lung cancer.
We provide next business day appointments with our lung specialists. You don't have to wait weeks or months for an appointment, a diagnosis, or a second opinion.
"This is a major lung cancer center by anyone's standards. Some internationally recognized physicians and researchers are here. It's fairly uncommon to have that many people with that degree of seniority in one place."

— Joseph Treat, MD, medical oncologist and lung cancer specialist