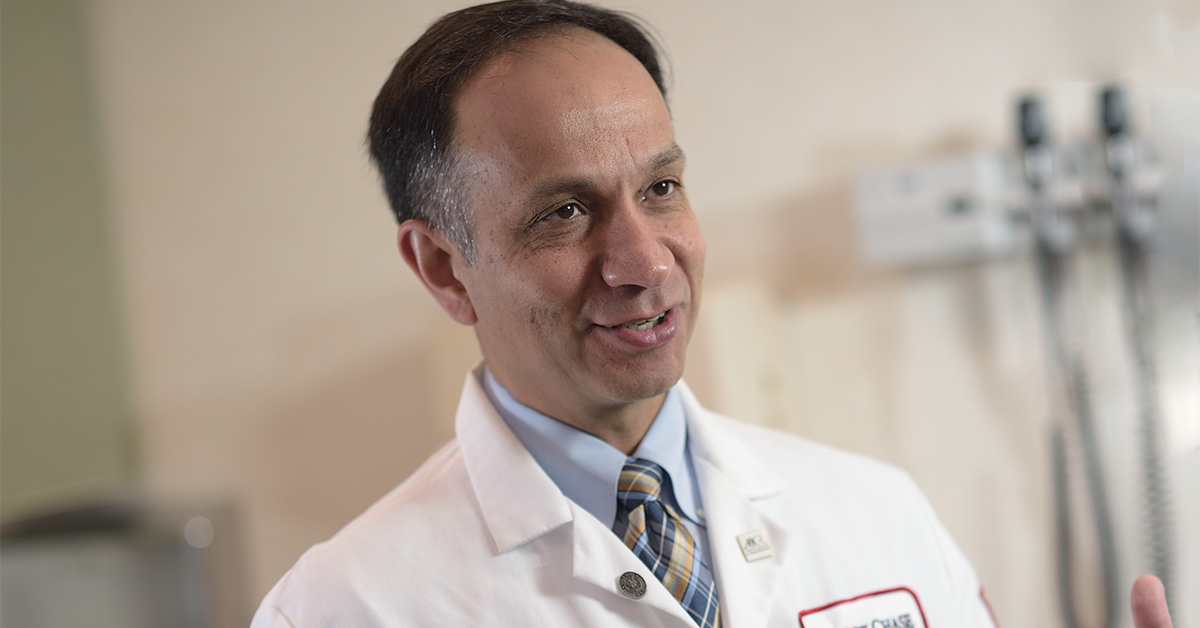 VIEW ALL POSTS
Lung Cancer Screening: Early Detection for Those with the Highest Risk
Updated: April 8, 2022

Lung cancer is the second most diagnosed cancer in individuals, and is far and away the most lethal form of cancer. It accounts for about 13% of new cancer cases each year, and about a quarter of all cancer-related deaths. But despite these stark statistics, it is also the most preventable cancer. As with many other forms of cancer,  prevention and early detection are key to reducing your risk.

In terms of prevention, the most effective lifestyle change you can make is to avoid using tobacco in any form. This is the single most powerful way to lower your risk of a lung cancer diagnosis, as well as emphysema and heart disease, and numerous other types of cancer. For help quitting, contact our Tobacco Treatment Program, where our specialists can help you find a path to a smoke-free future. In recent years early detection has become essential in prevailing over lung cancer, as new screening technologies have emerged. Lung cancer is commonly asymptomatic, meaning many patients do not experience any symptoms until the disease has grown and/or spread to a degree where it becomes much more difficult to treat successfully. Catching it early can make a world of difference.

What is Lung Cancer Screening?

Two Fox Chase doctors standing in front of a medical imaging device smile at the camera.

Lung cancer screening is done with a yearly low-dose computerized tomography (CT) scan of the chest that helps find cancer. A CT scan uses X-rays to make detailed pictures of a cross-section of your lungs, and usually takes less than five minutes. The scan can be done while you wear your regular clothes, and there are no injections involved in this screening. If any abnormalities are found on the scan, your doctor may recommend additional scans, or follow-up screening such as a needle biopsy. Many of the spots that require follow-up turn out not to be cancer, but all must be examined.

Who Should Consider Lung Cancer Screening?

It is critical to understand your own situation and then decide whether or not you are a candidate to get screened for lung cancer. While it is true that 10-15% of lung cancer is diagnosed in people with no history of smoking, longtime habitual smokers (even after quitting) are at far greater risk for developing lung cancer than non-smokers or light smokers. Since this screening involves exposure to X-rays, and can lead to the need for invasive procedures, the screening carries some risks, as well. For that reason, only people in a high risk category should be screened. You may be eligible for annual lung cancer screening if you meet ALL of these criteria:

You are between the ages of 50 and 80
You have a history of more than 20 pack-years of smoking (the number of years smoked multiplied by the average number of packs smoked per day)
You are currently smoking or have quit smoking within the last 15 years

What Happens During a Screening Visit?

A lung cancer screening specialist will prepare you for what to expect from the screening.
You will receive a low-dose CT scan.
Immediately following the scan, you will receive the results from your lung cancer screening specialist.
You will have the opportunity to discuss your results with a physician or qualified nurse practitioner.
Our team will let your doctor know your results, so he or she can recommend next steps if needed.

Interested in Lung Cancer Screening for You or Someone You Know?

If you live in the Philadelphia area, please schedule an appointment at one of our lung cancer screening locations most convenient to you.

Insurance coverage for screening is often covered for patients who fit the above eligibility criteria. It will depend on your insurer. A member of our staff will discuss your insurance coverage with you.