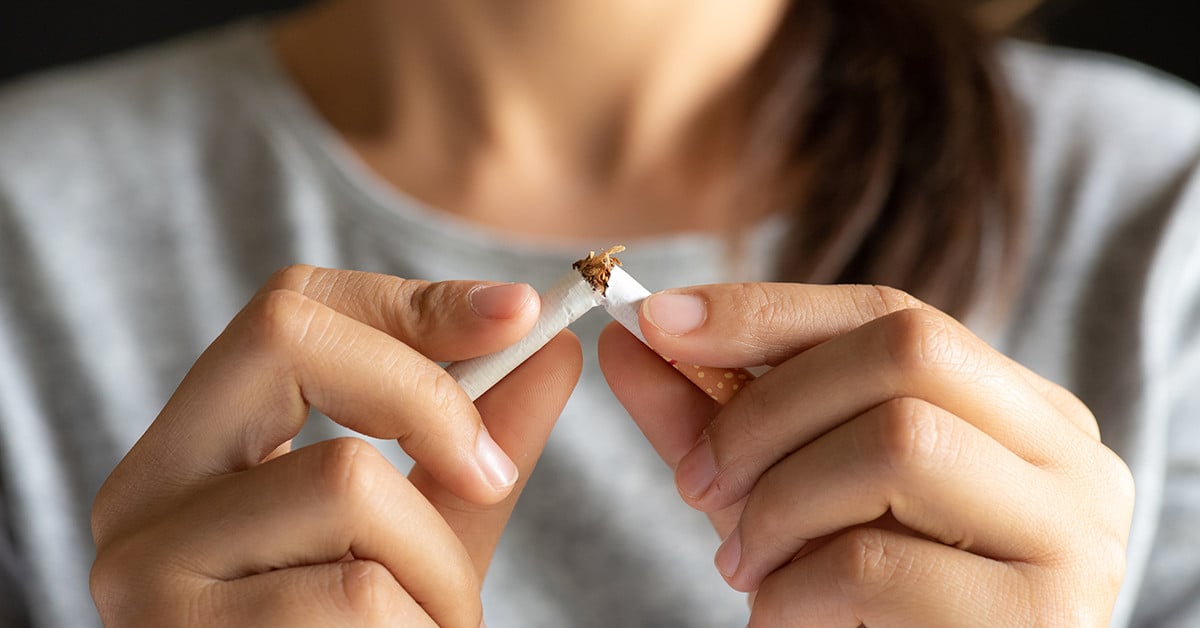 VIEW ALL POSTS
Still Smoking? Get the Help You Need to Quit
Everyone knows that ditching tobacco is good for your health. Quitting smoking offers immediate health benefits and is a good idea no matter when you started or how long you have smoked.

The benefits of quitting smoking

Stopping smoking offers the most benefits when done in your younger years, decreasing your future health risks tremendously. But quitting at any point has the potential to give back years of your life that you otherwise would not have.

According to the American Cancer Society, shortly after smoking your last cigarette,

Your heart rate and blood pressure drop to a more normal rate
Your lung function improves
Cilia, tiny hair-like structures that move mucus out of the lungs, start to regain normal function, which means your coughing and shortness of breath decreases and your risk of infection goes down

And, the longer you remain smoke-free, the more health benefits you'll have. Years after you quit smoking,

Your risk of coronary heart disease and heart attack drops
Your risk of cancers of the mouth, throat, esophagus, and bladder is cut in half.
Your cervical cancer risk and your risk of stroke fall to that of a non-smoker.
Your risk of cancer of the larynx (voice box) and pancreas decreases.
Your risk of dying from lung cancer is about half that of a person who is still smoking.

The benefits of quitting when you have cancer

If you're a cancer patient who smokes, know this: It's not too late to stop smoking, and there are programs out there, like the Tobacco Treatment Program at Fox Chase that can help you quit.

You may think it's futile to quit smoking once you're diagnosed with cancer or that it will be too stressful to stop smoking at the same time you're undergoing treatment. But saying goodbye to tobacco is worth the effort because it could increase your appetite and improve breathing. It may also:

Reduce the amount of time you spend in the hospital and help speed the healing of your wounds after cancer surgery
Reduce your risk of serious side effects from treatments such as surgery, chemotherapy, and radiation therapy
Lower your risk of infection
Decrease your risk of developing another cancer or of your cancer coming back
Help you increase energy levels, breathe better, and have a better quality of life. It may also help extend your life.

The Tobacco Treatment Program at Fox Chase

For anyone in the community who would like to quit smoking, Fox Chase offers one-on-one smoking cessation assistance through its Tobacco Treatment Program. This one-on-one interaction is vital and can increase success rates of quitting.

The program is led by a team of nurse practitioners who understand the challenges people that smoke face.

"We understand the stigma of smoking and people who continue to smoke after a cancer diagnosis," said Donna Edmondson, MSN, CRNP, AOCNP, a nurse practitioner with the Tobacco Treatment Program. "We know it's probably going to be difficult to quit smoking at one of the most stressful and challenging times of their lives—particularly since we're asking them to give up one of their coping mechanisms. But we have resources to help them."

The initial visit with a nurse practitioner focuses on collecting information about a person's smoking history and environment: How long have they smoked? What kinds of cigarettes do they smoke? Have they tried to quit before and if so, what products did they use? Do other members of their household smoke?

The next steps are mapping out a personalized plan for quitting—including changes in behaviors and habits—and what potential tools, such as medications, may work best for that particular person.

"If we're seeing a patient with head and neck cancer, for instance, we know that Nicorette gum or lozenges may not be the best stop-smoking choice for them," Edmondson said.

Coping with the stress of stopping smoking and recovering from lapses, if they happen, are discussed too.

"Almost all smokers have tried to quit multiple times, and I try to emphasize that's part of the process," said Kristen Kreamer, CRNP, AOCNP, APN-BC, who is also a nurse practitioner with the program. "The efforts they're making—even if they're not 100 percent successful—as long as that's their goal, we can continue to work toward that goal. This is not about instant withdrawals and misery."

Open to everyone

Although most of the people who take advantage of the Tobacco Treatment Program are cancer patients, Fox Chase also offers a free community program in a group setting that is open to anyone who wants to stop smoking. These multi-week sessions cover much of the same information discussed in the one-on-one sessions, but with the added support of other people who are trying to quit.

The team at Fox Chase is sympathetic to the struggles of people—with and without cancer—who want to stop using tobacco.

"We're completely nonjudgmental," Edmondson said. "We're in this together."

To schedule an appointment with the Tobacco Treatment Program, please call 215-214-1618 or fill out the online form.