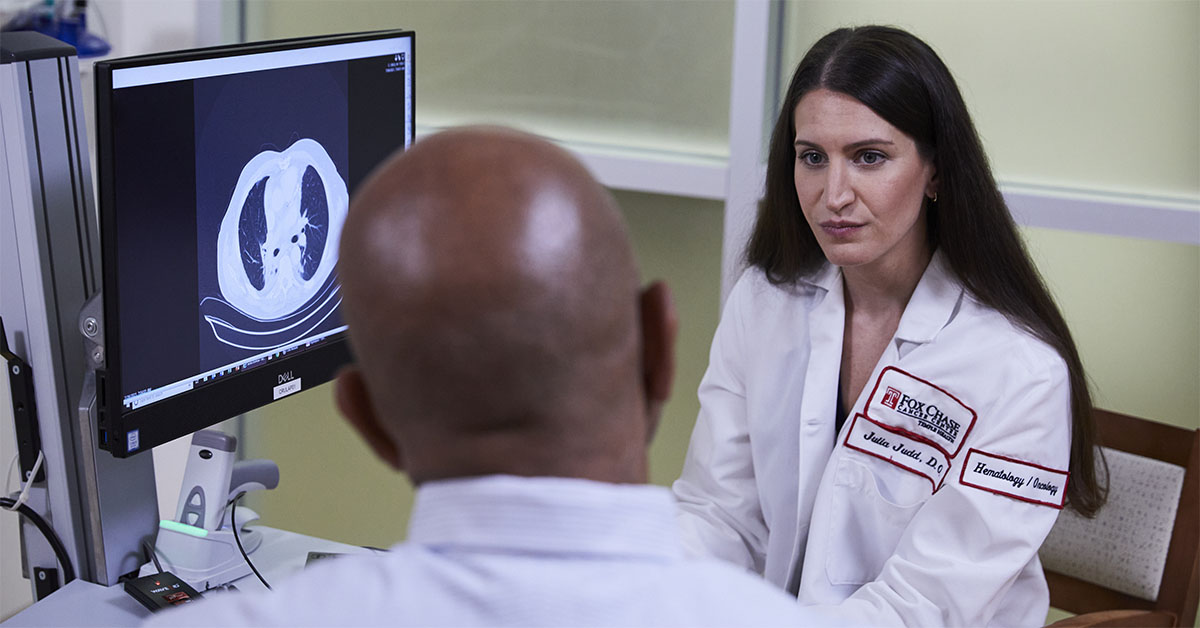 VIEW ALL POSTS
Confronting Racial Disparities in Lung Cancer Care
Lung cancer is the leading cause of cancer death in the United States, and Black patients with lung cancer are more likely to die than their White counterparts. That's largely due to systemic racial disparities in cancer care—and in health care as a whole, said Fox Chase hematologist/oncologist Julia Judd, DO, who studies racial disparities in lung cancer care.

Compared with White Americans, African Americans with lung cancer, for instance, are:

16% less likely to be diagnosed early.
19% less likely to have surgical treatment.
7% more likely to have no treatment at all.

And only 18% of African Americans survive for five years or more after treatment, compared with 21% of White Americans, Judd said.

Differences in access and care

Disparities in lung cancer outcomes between Black and White Americans are complex. "There's clearly a discrepancy in terms of socioeconomic and quality-of-care issues," Judd said.

African Americans are less likely to access critical services like lung cancer screenings. And after being diagnosed, they're less likely to receive treatment, which is concordant with the national guidelines.

Lack of molecular testing is another factor. "Molecular testing is extremely important in terms of making treatment decisions for advanced or metastatic non-small-cell lung cancer, and now also for localized lung cancer," Judd explained. "It completely guides our care management."

Some research also suggests that the lung tumors of African Americans may behave differently—something cancer researchers are hoping to learn more about. "These differences might confer different susceptibility to cancer development," Judd said. "But they also may have implications in terms of treatment response and survival."

Closing the gap

Inequalities in lung cancer care aren't as wide as they used to be, but there's still a long way to go. "Over time, the gap has narrowed, but there remains a persistent gap," Judd said.

Findings show that multipronged approaches can help African American patients and their care teams identify and resolve barriers to care and keep more patients on the path to treatment success. Programs are being created to help providers identify their own implicit bias as well as to recruit more African Americans to clinical trials aimed at providing better treatment support.

At Temple University, a two-year grant aims to involve more African Americans in shared decision-making about choices like getting screened for lung cancer and quitting smoking. Researchers hope to reach underserved communities through social media and web-based platforms and to provide consultations via telemedicine.

Judd is working to address potential biological factors by studying genetic differences in lung cancer between African Americans and European Americans. "Hopefully, in the future, we'll be able to develop treatments based on these differences and improve survival rates," she said.

What you can do now

Systemic changes to improve inequalities in lung cancer care may come slowly. But there are actions that African American patients can take as individuals right now. "If you're at risk for lung cancer based on your smoking history, talk with your doctor about your eligibility to get a low-dose CT scan," Judd said. "That's the best screening measure."

Judd also urges those who are already diagnosed to seek out care at a cancer center that can readily perform molecular tumor testing, like Fox Chase. "That will allow patients to really take advantage of how far lung cancer treatment has come in the past five years, with the advent of immunotherapy and more targeted therapies."

To schedule an appointment at Fox Chase Cancer Center, call 888-369-2427 or fill out our online appointment request form.