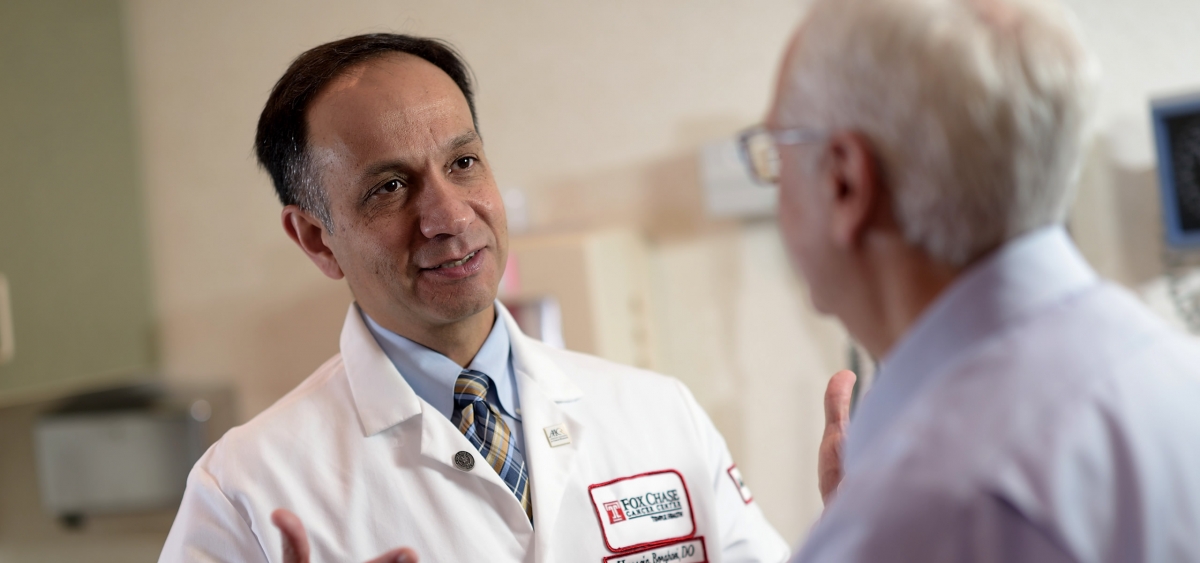 PHILADELPHIA (December 1, 2017) – Fox Chase Cancer Center is raising awareness on the risk factors for lung cancer. Lung cancer is the second most common cancer in both men and women, and the leading cause of cancer death, according to the American Cancer Society (ACS), and is by far the leading cause of cancer death.
"Most lung cancers are thought to be related to smoking or secondhand smoke, or less often to exposure to environmental factors," said Hossein Borghaei, DO, chief of thoracic medical oncology and director of lung cancer risk assessment at Fox Chase Cancer Center. "However, individuals with no known risk factors for lung cancer, including people who have never smoked, also get the disease. It's important to familiarize yourself with both the risk factors and symptoms of lung cancer."
RISK FACTORS
Smoking is the number-one risk factor for lung cancer and accounts for about 80 percent of lung cancer deaths, according to the ACS. Your risk increases the longer you smoke and the more packs per day you smoke. "No matter what your age or how long you've smoked, quitting is the best thing you can do to help prevent lung cancer. Whether it's cigarettes, cigars or pipes, quit now or never start smoking," said Abbas El-Sayed Abbas, MD, chief of thoracic surgery at Fox Chase Cancer Center.
Secondhand smoke, where you breathe in the smoke of others, may also increase risk. The ACS notes that more than 7,000 lung cancer deaths per year are caused by secondhand smoke.
Other possible risk factors include exposure to environmental substances, such as radon, asbestos, and diesel exhaust; age; personal history of lung disease, such as emphysema and chronic obstructive pulmonary disease, (COPD); and possibly a strong family history of lung cancer.
SIGNS AND SYMPTOMS
"Symptoms of lung cancer usually don't appear until the cancer has enlarged or even spread, although some people with early lung cancer can show signs," said Abbas. "While most respiratory symptoms are likely to be caused by something other than lung cancer, it's important to inform your physician if you notice any new respiratory symptoms, such as persistent cough or hoarseness of voice, so he/she can determine the cause. Treatment for lung cancer is more likely to be effective when the disease is diagnosed at an earlier stage."
The most common symptoms of lung cancer include:
Coughing that gets worse or doesn't go away
Chest pain
Shortness of breath, wheezing or hoarseness
Coughing up blood
Feeling very tired all the time
Weight loss with no known cause
Repeated respiratory infections, including pneumonia and bronchitis
SCREENING
The only recommended screening test for lung cancer is low-dose computed tomography (low-dose CT scan or LDCT). The ACS recommends doctors discuss screening with people who are at high risk for developing the disease and help them make an informed decision about whether to get screened. "We strongly recommend lung cancer screening for adults who are at high risk for developing the disease because of their smoking history and age," said Borghaei. The ACS defines high-risk individuals as follows: 
55 to 74 years old
No symptoms of lung cancer
Have a smoking history equivalent to a pack a day for 30 years
Are still smoking or have quit within the last 15 years
The United States Preventive Services Task Force (USPSTF) makes a similar recommendation, with the only difference being in the age individuals should be screened. The USPSTF recommends adults ages 55 to 80. Other criteria are also used. "We encourage you to contact us to see if you qualify for this screening," said Borghaei. "Clearly, if you have symptoms, you should see a health care provider sooner rather than later."
"Many promising advances in detection and treatment of lung cancer are being made," said Borghaei. "From new immunotherapies to next-generation chemotherapeutic agents, these advances will ultimately improve survival rates."
Sources:
https://www.cancer.org/cancer/lung-cancer/prevention-and-early-detection/risk-factors.html
https://www.cancer.org/latest-news/who-should-be-screened-for-lung-cancer.html