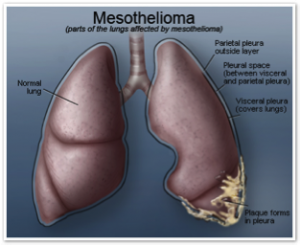 VIEW ALL POSTS
Lung-Sparing Treatment Options for Malignant Pleural Mesothelioma
Malignant pleural mesothelioma is a thoracic disease process that affects those with prior inhalational exposure to asbestos. It originates in the pleural space and progresses by local extension to involve the ipsilateral lung and adjacent structures. Often, there is a very long and variable latency period (from exposure to disease manifestation) that can range from 15-40 years.

In the past, therapies focused on palliation with the use of chemotherapy or surgery. In the present era, our current treatment paradigm focuses on using a multimodality approach to treat disease at the macroscopic and microscopic level. Patients who undergo a multimodality treatment course (such as surgery followed by adjuvant chemotherapy) have been demonstrated to have longer survival compared to those who only underwent surgery alone or chemotherapy alone.

Presently, there are two most commonly used types of surgical treatment options for mesothelioma:

Extrapleural pneumonectomy, whereby the surgeon resects the pleural tumor, along with the ipsilateral lung, diaphragm, and pericardium.
Radical pleurectomy/decortication, whereby the surgeon spares the lung, but resects the pleural tumor (in its pleural envelope), often along with the diaphragm and pericardium.

It is believed by many thoracic surgeons, that the pleurectomy/decortication procedure is more technically demanding, but achieves higher quality-of-life indices for mesothelioma patients, compared to the extrapleural pneumonectomy procedure. These higher quality-of-life indices are thought to be related to lung preservation. However, in some instances, a patient with very advanced mesothelioma may not be a candidate for lung preservation, and may need to undergo an extrapleural pneumonectomy for full extirpation of pleural tumor. The thoracic surgical team at Fox Chase is skilled at performing both procedures, and makes every effort to perform a lung-sparing radical pleurectomy whenever possible.