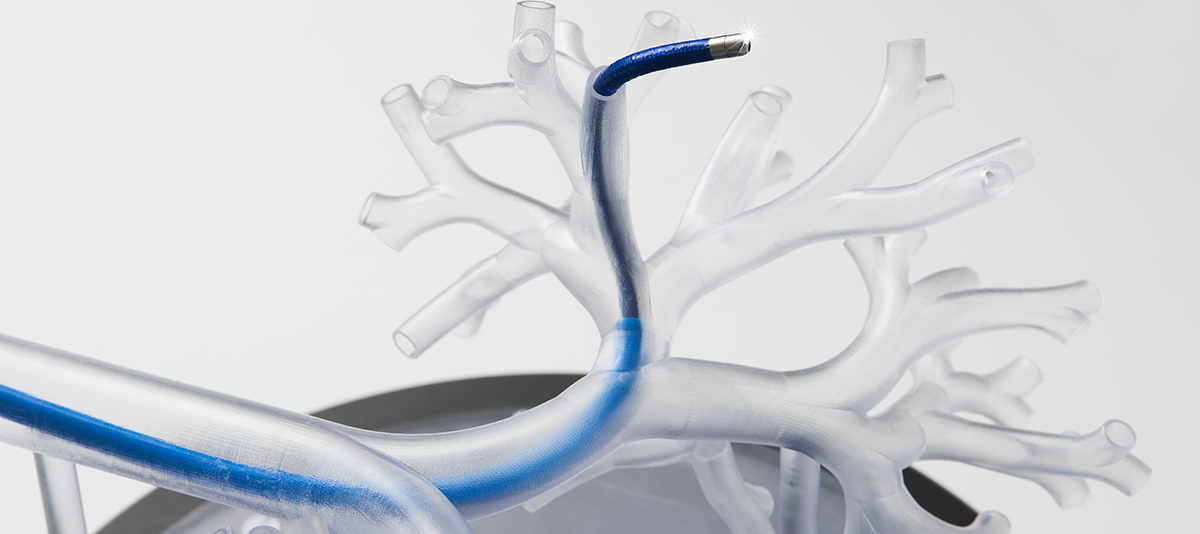 PHILADELPHIA (August 15, 2018) – A new innovation that holds promise to fight lung cancer is now in use at Fox Chase Cancer Center. Used to view the inside of the lungs and obtain a tissue sample for biopsy, the goal of Auris Health's  Monarch™ Platform is to enable earlier and more accurate diagnosis of small and hard-to-reach nodules in the periphery of the lung. Fox Chase is the first cancer center in the Philadelphia region, and only the third nationwide, to have this technology.
The technology, which was recently cleared by the U.S. Food and Drug Administration (FDA), integrates the latest advancements in robotics, software, data science, and endoscopy. Fox Chase purchased it with funds raised through its signature annual event, the In Vino Vita Benefit and Wine Auction.
"Early detection and diagnosis of lung cancer is critical to improving survival. The Monarch platform enhances our ability to evaluate, diagnose, and ultimately treat lung cancer by providing improved reach, vision, and control for minimally invasive bronchoscopic procedures," said Christopher J. Manley, MD, director of interventional pulmonology at Fox Chase. "We are excited about the promise of this technology to shorten the time from the discovery of a lung nodule to the treatment of a lung cancer."
There are a variety of diagnostic options currently available for lung cancer, but all have limitations in accuracy, safety, or invasiveness. These limitations can lead to false positives, false negatives, or side effects such as pneumothorax (collapsed lung) and hemorrhage, which may increase health care costs and extend hospital stays.
The Monarch Platform uses a familiar controller-like interface that physicians use to navigate the flexible robotic endoscope to the periphery of the lung with improved reach, vision, and control. Combining traditional endoscopic views into the lung with computer-assisted navigation based on 3-D models of the patient's own lung anatomy, the Monarch Platform provides physicians with continuous bronchoscope vision throughout the entire procedure.