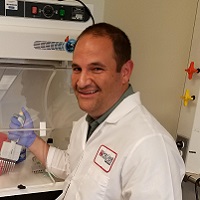 I am from Indiana and a Midwesterner at heart. Through a series of unplanned events, I spent 13 years at Indiana University obtaining a BS in Biochemistry followed by a MD-PhD dual degree.  This prolonged time "in college" was awesome and the most fun decade+ of my life. "All my friends got older, but I keep staying the same age" – sort of the opposite of Matthew McConaughey's line in Dazed and Confused.  While they were all working 9-5, I was still in school, working hard but also playing hard. I also met my future wife while I was a grad student.  This was also the unfortunate time of my life where my dad passed away from cancer.  This domino falling how it did, probably more than any other, is what put me where I am today.
From Indiana, I left for Urology residency at Barnes-Jewish Hospital/Washington University in St. Louis.  During this time, we also started a family and have 3 kids now. The oldest will be in High School next year (I am finally getting old, well, old-ish anyway). I came to Philly for the last 2 years of my medical training at Fox Chase Cancer Center (Urologic Oncology fellowship, "grades 31 & 32") and stayed in the area because I found what has turned out to be a terrific opportunity.  I now have a clinical practice at Albert Einstein Medical Center providing urologic care for patients in North Philly neighborhoods and run a translational research lab at FCCC where we mostly study bladder cancer and have a small kidney cancer project too.  One of the many things I value about my clinical and research career is that I get to work with lots of trainees (urology residents at the hospital and students and post-doctoral fellows in the lab) – I am a teacher and contribute to the next generation of doctors and scientists.
During my talk, I will describe how I want each job to inform the other during my career. I will discuss how this will hopefully lead to better science and better medicine.