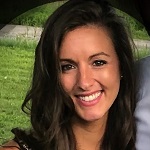 Rosie was born in Seattle, WA but moved to Swarthmore, PA as a baby and then to the Boston area at age 8. On the East Coast, Rosie grew up surrounded by family members whom chose either a PhD- or a MD-career pathway. This includes her mother who earned a PhD in Neuroscience and is a hard-working, dedicated scientist. Rosie's father was the primary caretaker. Her childhood memories with her mother consist primarily of her time in the lab. Her mother would be primarily focused on setting up some type of cellular assay while Rosie was focused on playing with the pipettes and setting up her own "experiments".
Although Rosie grew up in a highly academic environment,  she had trouble motivating herself as a student and finding any interest in her school work. She had an interest in research but wanted to do human research and work with patients. She was told that she needed to pursue either a PhD to do research or a MD to work with patients. In high school, Rosie experienced a tragic event when her boyfriend suffered severe head trauma that landed her determined to research and understand the brain and brain injury. She then attended Brandeis University for their undergraduate neuroscience program, with the plan to get her PhD in neuroscience, and see to it that no one would have to deal with the same helplessness when faced with brain injury that she had witnessed in high school.
After graduating, Rosie joined a Brain Imaging Lab in Boston and began her search for the right PhD program. She ultimately got accepted into a program that she felt fit her interests, but following the advice of her lab director and colleagues, decided to instead pursue a Master's program in Clinical Research at Boston University. Despite her previous confidence in pursuing one professional path, Rosie was back to a state of uncertainty regarding what this Master's degree could bring. To her surprise, it opened a whole new world of opportunity in an area of clinical research that seemed to bridge the gap between her disparate interests in working with people and conducting research.
Following her Master's program, Rosie joined Fox Chase Cancer Center in 2017 as a Clinical Research Coordinator. Working directly with the patients and physicians to offer clinical trial opportunities was incredibly rewarding and exciting. She then took the role of Team Lead for the Hematology Team and is now the Director of the Investigator Sponsored Research Unit. Although the position she is in today was previously unknown to Rosie, by remaining open to various opportunities, she has found an avenue that satisfies her research interests along with her desire to connect with patients. During her talk, she will speak about the world of clinical research as an additional career pathway to consider.