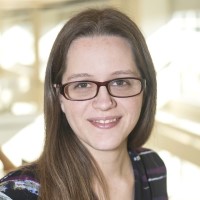 Alyssa Leystra, PhD, loved mysteries from an early age. Throughout her childhood, she read Sherlock Holmes and watched mystery shows. As she grew, she learned to love the mysteries of the universe – instead of reading mystery stories, she read about unanswered questions regarding DNA and microorganisms. Her interests inspired her to pursue a dual degree in Microbiology and Biochemistry at the University of Wisconsin – La Crosse. There, she started exploring laboratory research and took classes in human diseases, genetics, and cancer biology. At the suggestion of a mentor, she decided to apply to graduate school.
Alyssa pursued her PhD in Cancer Biology at the University of Wisconsin - Madison. During this time, she worked under the mentorship of Rich Halberg, PhD, and studied how cancer cells with diverse genetics interact to drive tumor progression. She also mentored undergraduate and graduate students in the lab, taught an annual lab workshop, and developed her science communication skills. In 2016, she successfully defended her thesis, received her PhD, got married, and moved halfway across the country to start a new job as a postdoc at Fox Chase Cancer Center. In the lab of Margie Clapper, PhD, Alyssa studied how the tissue microenvironment – including immune cells, microbes, and genetics of normal cells – influence the risk of tumor formation. During her postdoc, she also taught undergraduate classes, mentored high school students in the lab, and continued to teach an annual lab workshop. Over time, she discovered that her passion for identifying and solving problems in collaboration with others made her well suited to science education and administration.
Alyssa is now the Education Coordinator at Fox Chase Cancer Center. In this role she creates, coordinates, and teaches educational programming for high school, undergraduate, graduate, and postdoctoral trainees. Through this work, she aims to help students and scientists practice translational skills needed succeed in their future careers.