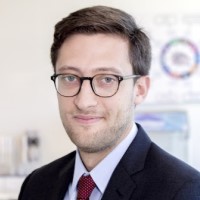 Ben Miron, MD, was born in New York but grew up in the suburbs of Philadelphia. In high school he was very interested in computers and technology, and originally enrolled as an undergraduate at New York University (NYU) to study computer science. After one semester, however, Ben began having doubts that computer science was a good fit as the major career path seemed a little too impersonal.  Combined with the impact of his mother's personal battle with ovarian cancer, Ben gravitated more towards the life sciences and medicine, specifically oncology.
After he graduated from college with a degree in psychology and most of his pre-med coursework completed, Ben took a job as a clinical trial coordinator at Memorial Sloan Kettering Cancer Center (MSKCC).  Not only did this job allow him to work at the same institution where his mother was being treated, it allowed him time to work on his requirements for his medical school application and gain exposure to oncology and clinical research as a professional. From this experience Ben was motivated to pursue a career in oncology to improve treatment for cancer patients, like his mom, and contribute to them living fuller, longer, and healthier lives.
After a few years at MSKCC, Ben enrolled at NYU School of Medicine where he completed his M.D. with honors in recognition of his research in immunology. After finishing medical school, he made an unconventional choice to not go directly into residency and ended up spending some time working at a biotechnology company developing biomarker assays for precision oncology. Ben was the head of clinical research for a small company and was fortunate to be able to collaborate with many of the brightest oncologists around the world. It was this opportunity that really helped expand his knowledge of the field beyond his years of experience. After a few years in industry, he realized that he missed clinical medicine and it motivated him to go back to residency/fellowship to become an oncologist. Ben is now in his second year of fellowship working to complete his training in oncology and develop his own research projects to continue to improve cancer care for patients.