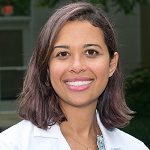 Kristen Manley, MD is from Atco, New Jersey, a small town that sits on the edge of Wharton State Forest, halfway between Philadelphia and Atlantic City. She is an only child, raised in a home that did not place high value in advanced education. Yet, from an early age she knew she wanted to be a physician. She became the first in her family to go to college and obtained her Bachelor of Science from Rowan University. While attending university, Kristen worked as a waitress, as a receptionist at an optometry office, and volunteered at a surgical center. The experiences in the medical field solidified her childhood ambition of becoming a doctor. After graduating college in 2004 she took a year off to enjoy life before beginning the rigors of medical school. She attended Jefferson Medical College and obtained her medical degree in 2009.
After medical school, Kristen moved away from the Northeast for the first time, to pursue a residency in Internal Medicine at Northwestern Memorial Hospital in Chicago. Early on as an intern she made connections that would have huge impacts on her future including her mentor Dr. Diane Wayne, and her future husband who was also an intern. After completing residency, Kristen and her future husband moved to Boston where she joined the medical staff of Beth Israel Deaconess Medical Center, serving as a Hospitalist Teaching Attending for Harvard Medical School with an intention to apply to a fellowship. However, her years there honed her clinical skills and established her love of hospital medicine. Kristen was drawn to the diverse disease states and patients that make hospital medicine a challenging and fascinating career. After 4 years in Boston both Kristen and her now husband (also Dr. Manley!) made the decision to come back closer to home.
Kristen was recruited by Fox Chase Cancer Center in 2015 as an oncohospitalist and has recently obtained the rank of Division Chief of Hospital Medicine.  In her spare time, she enjoys spending time with her three adorable children and her intermittently charming husband.