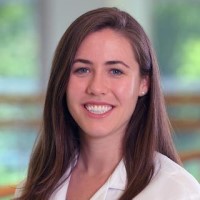 Catie Neumann, M.S., L.C.G.C. grew up in nearby Bucks County and attended high school at Council Rock North.  Growing up, Catie always had an interest in the healthcare field and wondered why individuals made certain behavioral choices about their health. However, she did not have a specific career interest in mind that would utilize her interests.
After high school, Catie enrolled at Lafayette College in Easton, PA to pursue a Bachelor of Science in Psychology and completed an independent study for her Health Psychology class examining the relationship between stress and the immune system. However, during an internship in her junior year with a Lung Transplant Unit Catie's interests changed after working with patients diagnosed with Cystic Fibrosis. From this experience she discovered a deep love of genetics and the impact of genetic variations on human health.  A fateful search for careers pairing her interests in genetics and psychology on "Google" identified her dream job: Genetic Counselor.
After her college graduation, Catie wanted to pursue work experience prior to her graduate studies. She worked as a clinical research assistant at Tufts Medical Center in Boston, MA and UCLA Cancer Center in Los Angeles, CA.  She was accepted into the Boston University Genetic Counseling Program and graduated with her Master of Science in Genetic Counseling in 2016. Her first position out of her program was a Metabolic Genetic Counselor at the Children's Hospital of Orange County. Although she loved the children and families she met through this position, she realized her true passion was in cancer genetics. To follow this passion, she accepted a position as a Cancer Genetic Counselor at the St. Joseph's Cancer Center in Orange, CA.
After almost a decade away from home, she returned to the Philadelphia region to work as a Cancer Genetic Counselor at Fox Chase Cancer Center in 2018. In addition to patient consultations, Catie speaks to providers and patients about the utility of genetic testing and counseling, participates in research, and hosts prospective and current genetic students for shadowing. Her current interests include how multigene genetic testing leads to more accurate risk assessment in families and the changing landscape of direct-to-consumer genetic testing.