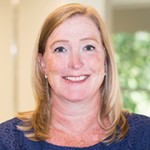 I was born and raised in Lansdale, a suburb of Philadelphia. My neighborhood was filled with kids, and we were free to spend the entire day playing outside, until we got called in for dinner or darkness fell. We played stickball, basketball, football -- any sport we could think of to keep busy. This is where my love of sports began. I attended North Penn High School where I played field hockey, basketball, softball, and was a member of the track team. Being part of a team was an important part of my life and taught me the life lessons of how to build trust, relationships, and teamwork.
My interest in people, interpersonal relationships, and how people live and work together led me to earn my Bachelor's Degree in Sociology from Western Maryland College (now called McDaniel College). While there I also pursued my love of sports, continuing to play field hockey and basketball. I enjoyed the buzz and hum of college campus life and wanted to be part of it, but I was unsure of in what capacity. During the spring semester of my junior year I was offered the opportunity to work in the athletic department for a few hours a week calling alumni and asking them to donate. I was thrilled to be talking to people about our shared experiences, updating them on current campus activities, and feeling the special camaraderie that came with the shared enthusiasm for our alma mater. Unbeknownst to me, I was engaged in fundraising long before I realized I could make a career of it!
Wanderlust kicked in after graduation and I moved around the country, eventually settling in San Diego, California for nine years. There, my jobs were mainly in customer service, where my people skills paid off in commission-based retail and then to working at the largest credit union in San Diego.
I eventually moved back to the East Coast and landed at The Vanguard Group, a large mutual fund company in Malvern. The job was challenging and I learned much about investing in mutual funds, but the position consisted of phone-based customer service and it was not the type of interaction that interested me. The Philadelphia area is blessed with a plethora of great colleges and after two years at Vanguard, I decided it was time to make a career move. I did the requisite networking and eventually landed a job in the Development Office at Villanova University.  
Besides the few hours a week in college 10 years earlier, I had no experience in fundraising, but my customer service skills and personality won them over and I was offered an entry level fundraising position. I worked at Villanova for 11 years, starting as a Development Associate and ending up as a Major Gifts Officer for Athletics.  An exciting offer from the School of Arts and Sciences at the University of Pennsylvania lured me away from my first love - sports - but offered me the challenge of working at an Ivy League university with a different alumni base. Four years later I was recruited away to another great Philadelphia school, Saint Joseph's University, and spent 3 years traveling the Northeast corridor raising funds for the academic programs at St. Joe's.
Now, two years into my Fox Chase experience as Director of Development in the Office of Institutional Advancement, I recognize the differences in higher education fundraising and healthcare fundraising. I am also keenly aware of the commonality: helping people make an impact. Though Institutional Advancement colleagues and I are not involved in clinical patient care, we offer a different type of care -- helping patients and their family members find purposeful ways to express their gratitude. Over the years I have learned that expressing gratitude is part of the healing process. To me the most rewarding aspect of health care fundraising is helping a patient or patient's family find a way to be part of the mission of Fox Chase Cancer Center. I'm proud to be part of the Fox Chase community.