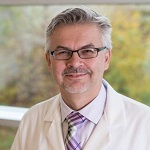 Marcin Chwistek, MD FAAHPM is a native of Poland. He was born in a small town near Krakow, where he grew up in a world that seemed small (no internet!) and confined to the national borders.
Following high school, Marcin enrolled in Jagiellonian University Medical College in Krakow. During his medical school, Marcin's mother was diagnosed with metastatic colon cancer and died soon after, at 48. Marcin graduated in the early 90s when Poland was going through a massive political change, and the world was transforming rapidly, except for healthcare which seemed stuck and unfriendly for new graduates. What followed was a period of intense studying for the USMLE exams, learning English, and preparing to leave the country for the US.
Marcin and his wife, Marta, left in 1996 after Marcin was accepted to a residency program in Connecticut. Their son, Phil, was born in June of 1997. The following years were marked by sleep deprivation, fierce learning, and attempts at building a new life in a new culture, far away from home.
In 2000, Marcin and his family moved to Midwest where he took a primary care job in north-central Wisconsin (where winters are long, and everyone hunts). While in primary care practice, Marcin enrolled in an Integrative Medicine fellowship at the University of Arizona under the guidance of Dr. Andrew Weil. In 2003, Marcin's dad was diagnosed with an aggressive form of myelodysplastic syndrome that soon transformed into acute leukemia. He died suddenly in 2004 on route to a hospital from a massive intracranial bleed. Marcin wrote about this experience in an essay published in a collection entitled "Twelve Breaths a Minute." The experience of his dad's illness renewed Marcin's interest in oncology. In 2004, he enrolled in a pain and palliative medicine fellowship at Memorial Sloan Kettering Cancer Center (MSKCC) in NYC.
In the summer of 2004, the family (along with their Aussie dog) moved into an apartment on Roosevelt Island. The time spent at MSKCC was probably one of the most exciting periods in his professional life. Marcin developed a deep appreciation for the challenges of effective pain management and palliative care for seriously ill patients. He worked in the integrative medicine department at MSKCC and enjoyed NYC in rare free moments.
Following his fellowship, Marcin joined the University of Pittsburgh's Medical Center palliative medicine program as an Assistant Professor and Director of an Inpatient Hospice Unit. While in Pittsburgh, his daughter, Lena, was born. The family stayed in Pittsburgh for almost two years. In 2006, they moved to the Philly area after Marcin was offered a position with the Pain and Palliative Care Service at FCCC.
The last years have been marked by the program's rapid growth, recruitment of additional staff, the initiation of the fellowship program in palliative medicine (now in its 4th year), and the building of a research program. Today, Marcin's work focuses on improving patients' care through innovations in clinical work and research, promoting goal concordant care at FCCC, and improving communication between patients, clinicians, and caregivers.
When not diligently working at Fox Chase, you can also find him on Twitter @mchwistek and LinkedIn.