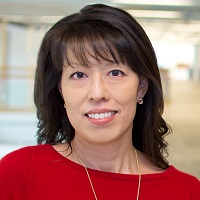 Carolyn Fang, PhD, was born in Pittsburgh, PA, but moved to a small town in central Connecticut at a young age (6 months). She had a rather uneventful childhood, filled with family and school activities, before heading off to college. At Colgate University, Carolyn was an undeclared major until she had her first psychology class and lab. After that, she was "hooked"!  She went on to obtain a degree in psychology, with a minor in Asian studies. 
After graduation, Carolyn pursued her PhD in Psychology at the University of California, Los Angeles (UCLA). She was living in LA during a period of significant racial tension, which led to the 1992 Los Angeles riots that resulted in 63 deaths. From this experience, Carolyn was galvanized to study how racial stressors impact health. Her dissertation research investigated how exposure to race-related stress and other social experiences impact cardiovascular reactivity and chronic disease risk.
Given that Carolyn's family was living in Connecticut, she was eager to return to the East Coast after obtaining her doctorate degree. She accepted a postdoctoral fellowship in Cancer Prevention and Control at Fox Chase Cancer Center (FCCC) in 1997. After completing her postdoctoral training, Carolyn obtained funding to support her own lab at FCCC.  During her career, she has collaborated extensively with basic scientists and clinicians to investigate biobehavioral pathways in cancer risk and outcomes. She also works closely with community partners to deliver programs to reduce cancer risk and health disparities in underserved populations. Over the years, Carolyn has held a number of roles at FCCC including serving as Co-Leader of the Cancer Prevention & Control (CPC) Program, Leader of the NCI-funded Research Education Core, and currently as Associate Director of Population Science. She is an elected Fellow in the Academy of Behavioral Medicine Research (ABMR) and the Society of Behavioral Medicine (SBM) and was recently appointed to a 3-year term on the NCI Cancer Prevention Steering Committee (2020-2023). In each of these roles, Carolyn strives to highlight the value and benefits of cancer prevention and to advocate for health equity across communities.