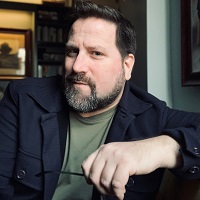 George's father was a grade school teacher and his mother was a nurse. Right from the start he knew two people whose careers weren't just about a paycheck, but about nurturing and caring and patience. Community involvement also seemed to come naturally to George's parents – coaching softball, singing in a local chorus, starting a neighborhood watch – so he and his three sisters grew up with a sense that engaging the world was important.
In school, George describes himself as a B student being enthralled with some courses (biology), and deeply bored with others (math). He often wanted to know more about the lives of his teachers than about what they were teaching. He found that he was often fascinated by people and their stories. At family gatherings, while the rest of the kids were playing outside, George could be found sitting near the old relatives, asking them about life during the Great Depression and World War II. Growing up, George's most prized possession was a tape recorder – he brought it to family gatherings throughout the 1980s, and then transitioned to a video camera in 1990. George wanted to document it all: conversations, faces, traditions, voices, laughter, even the houses his family dwelled in. George imagined that he always had future generations whispering in his ear, "What was life like back then? What were my long-gone relatives like?" He took it upon himself to give them answers.
It's not hard to understand why then, as a teenager graduating high school, George decided to pursue a career as a documentary filmmaker. To this end, he got advice from an actual Hollywood producer and director (Tony Bill) to get an education first and worry about learning the ins and outs of filmmaking later. Ultimately, George chose English as a major, with the rationale that it would be useful whether he went into the arts or business.
George's high school career was distinguished by being president of student council and the lead in school shows. In college, his greatest achievement was, basically, successful networking: he scored a best friend (his closest confidante to this day) and befriended the school photographer, during his work study job in the Public Affairs Office. Her name was Martha Ledger. When choosing an internship to finish out his senior year obligations, he had a choice of going to the public affairs office at Germantown Hospital (just up the street from his dorm) or the one at the Hospital of the University of Pennsylvania (a subway and bus ride away). George chose the latter, based on Martha's strong recommendation. Her husband Marshall headed the department!
The first day of his internship at Penn was January 10, 1992. Although he couldn't know it then, he would not leave Penn until October 2007. In that period, George would go from being an unpaid intern to director of communications for Penn Medicine's development department with a staff of four. And he would always work, not in the hardscrabble realm of documentary filmmaking, but the high stakes and thrilling world of major research and patient care enterprises, first Penn and, since 2007, Fox Chase Cancer Center. A career at two of Philadelphia's most esteemed medical institutions … all sparked by a friendship with a college photographer.
From 1992 to 2000, George wrote for and edited multiple in-house publications within Penn Medicine: the alumni magazine, the hospital magazine, a faculty newsletter. He was a roving reporter in a dynamic, thriving, growing place. Such fun! In early 2001, George moved from Penn's public affairs office to Penn's development office, becoming director of communications for a department that grew from 35 to 90 in the six years that he was there. In such an environment, one quickly learns how to adapt to change and stay nimble. It was in this period that George became the main "ghost writer" for the institution's CEO and dean, crafting his speeches at events and communications to donors. Surprisingly, George didn't mourn the loss of his byline – instead he was thrilled by the challenge to both channel a leader's style and communicate to various (and large) constituencies. In the end, he was still telling stories, but now they had a different purpose: to inform and connect, but also to inspire action (gifts!).  
George's first job grew directly out of an internship. His second job, through the recommendation of a friend. George's next move, to Fox Chase, was also begun with outreach from a friend. As a result, he has never mailed a resume anywhere in his professional life. (So far!) Friendships enrich and sustain him – and they've also helped him advance and grow in my professional life.
For the last five years, George has been Senior Director of Individual Gifts. This just means he works with people (the "Individuals"), not corporations or foundations. His job is to reach out to patients and people in the community to see if they want to be part of Fox Chase's mission of helping people prevail over cancer through philanthropy. The work requires three key strengths: curiosity (you have to know what donors truly care about), humility (you never have all the answers and you're never in total control of how things work out), and empathy (many Fox Chase donors have faced or are facing great health challenges).
George feels sure these are qualities that serve any career path. And if you always strive to be useful, engaged, collaborative, open to learning new things, and busy, you're doing whatever you're doing right! Onward and upward!