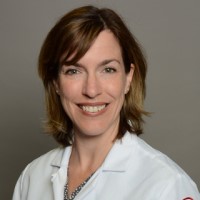 Barbara Ebersole, BFA, MA, CCC-SLP, is from Maynard, Massachusetts, a small town about 45 minutes northwest of Boston. A creative and expressive person, she was heavily involved in the arts from an early age.  She took drama and dance classes, singing lessons, loved to write, draw and paint, and play the saxophone. Theatre became her preferred form of expression and she went on to pursue her Bachelor of Fine Arts in acting and performance at Emerson College in Boston.   While at Emerson, she was fortunate to study voice with Kristin Linklater, the renowned teacher known for voice work that involves exploring sound, body awareness, and other techniques to facilitate breath flow, resonance, and emotion, for vulnerable, honest, engaging vocal expression. After graduating in 1997, Barb moved to Orlando, Florida and worked on many local and regional theatre productions. She met her husband, a poet and writer, during this time. After four years of being a creative by day and a waitress by night, and many Ramen™ Noodle dinners, she resolved to return to school to become a medical speech pathologist specializing in voice rehabilitation.
In 2001, Barb pursued her Master's degree in Speech Pathology at the University of Massachusetts, Amherst. During her Master's training, she mentored with faculty specializing in voice disorders. Following graduation, she pursued a Clinical Fellowship at JFK Medical Center, Johnson Rehabilitation Institute in Edison, New Jersey.  Her Fellowship provided her training in adult populations with voice and swallowing disorders, including a-laryngeal voice restoration for patients who have had their larynx (voice box) removed due to cancer. Inspired by this work, she completed her fellowship and took a position at the Fox Chase Cancer Center in January 2007.
Barb has spent the last 13 years as a Speech-Language Pathologist at Fox Chase, rehabilitating adults with voice and swallowing disorders resulting from head and neck cancer and its treatment. She also works with performers and singers through the Temple Head and Neck Institute. Always looking for a new challenge, she has held multiple roles, including: Staff Speech Pathologist, Manager of Physical Medicine and Rehabilitation, Director of Speech Pathology, and Head and Neck Cancer Program Administrator. Her energy, creativity, and desire to improve functional outcomes led her to participate in clinical research in 2015. She discovered a passion for it, publishing 16 scientific papers in peer-reviewed journals over the last 5 years. Her efforts earned her the first-ever appointment of an ancillary clinician to the Fox Chase Faculty, at the rank of Assistant Research Professor in 2018. She is now pursuing her PhD in Epidemiology. Despite the fact that her career path took a sharp turn from "the arts" to "the sciences", the fulcrum of her motivation remains unchanged. Barb has always approached her work as a call to action — a way to meaningfully contribute.