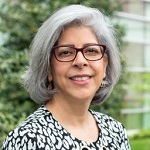 Evelyn González was born in Bristol, Pennsylvania, a small town 35 minutes north of Philadelphia. A first generation child of immigrant parents, who came from Puerto Rico in the 1950's, she is one of three children. Straddling her parent's world and her world provided a unique bilingual and bicultural upbringing which benefitted her both professionally and personally. In fact, Evelyn credits this navigating between the two worlds as helping her to learn some of the most valuable lessons. In her youth, she desired to play sports, although her father didn't think girls should play sports. After pushing back, sharing the health benefits and wanting to fit in, her father agreed (sort of), and mom signed off. This push led to seven years of playing field hockey, learning how to condition her body and work with coaches who taught her about strategy and facing opposing teams. An added bonus: it was also a way to travel outside of her small Pennsylvanian town. Beyond sports, Evelyn was also in drama club, where she learned to prepare by memorizing lines, following directors' cues, role playing with other actors, learning to project her voice and getting excited and nervous about performing. All of these skills are still in play in her career because Evelyn learned that the things that bring joy in unrelated areas of one's life can also be leveraged in one's career.
College was a whole other adventure. Evelyn was accepted to—at the time—an all-girl, small Christian college in Philadelphia – Chestnut Hill College. She was the first member of the family (both sides) to go on to college and perhaps because of this, was not as well prepared as some. As a result, her first semester was a disaster, so much so that she wanted to quit. However her mother made her wait until year's end to make this decision. That summer she secured a job for Evelyn even before school was finished. It was working in a factory, no air conditioning, cutting out threads from manufactured clothing. Her mom knew what she was doing – Evelyn was ready and eager to return to school before the summer was up! Another reason to return: meeting women from around the world. Her roommate was from Vietnam and came to the USA as a refugee following the end of the Vietnam War in 1975. Learning about the trials of her life gave Evelyn greater appreciation for her own. At the end of college, Evelyn graduated with a degree in Political Science.
While working at Planned Parenthood after college, she used her PolSci education to advocate for reproductive rights. During this time she also was introduced to a new love: the field of training. After nine years working in the field as a community health educator working for multiple organizations, Evelyn returned to college, moved to New York and studied to be a genetic counselor. However, it was not a good fit—she didn't feel happy or confident in her future life as a genetic counselor, so the last semester before graduation she changed her major and instead secured a Master's degree from Sarah Lawrence in Health Advocacy. She credits this decision as the best one she ever made.  Her work today is leading a fabulous team of ten who are dedicated to increasing the publics' knowledge about cancer so they can make informed decisions about their lifestyle and healthcare. Evelyn's team pays special attention to reach medically underserved and vulnerable populations that are disproportionately affected by cancer – cancer health disparities. Every day is different; it may be a new community, new culture, new geography or a new challenge such as language barriers, no insurance and no understanding of how our health system works. All of these issues will impact health outcomes. 
Last thoughts from Evelyn: "make sure that what do you brings you joy – happiness comes and goes. Joy is a state of being. When you find what you love to do – you find purpose. Many of things I tried (sports, drama, college etc.) I did while I was afraid. Growth comes from taking risk. Every time you try something new, whether you succeed or not, you learn more about yourself. Often times it is when you fail that you come to learn the most. [It's important to learn] how to handle the situation, how to pivot, how to renegotiate, how to let go, and how to uplift yourself. So go find yourself and be that!"