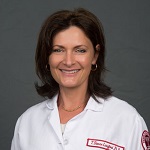 Dianne grew up in a small, racially and socioeconomically segregated town in South Alabama where she developed a keen interest in repeated patterns in nature and how all living things connect with one another.  The school system in her town desegregated schools when she was in fourth grade, and this left a profound impression on Dianne. While she maintained a keen interest in connections in nature, her world suddenly became more diverse and complicated and generated new questions regarding how our differences and similarities influence our journey through life. 
After college, Dianne received her PhD from the University of Alabama in 1996 in cellular/molecular biology.  She completed five years of post-doctoral training at the University of California in San Diego (UCSD) in the Departments of Medicine and Pathology where she trained in neuropathology of brain disease.  After serving as an Assistant Professor at UCSD, she was recruited by Temple University School of Medicine in 2007.  
Dr. Langford's research focuses on insult-driven changes in the brain. Her work revolves around two main areas of investigation, both of which examine cellular and biochemical responses to challenges such as injury or invasion by pathogenic organisms.  One major focus is on the effects of repeatitive mild traumatic brain injury (mTBI) on the central nervious system (CNS) function.  The ultimate goal of these studies is to prevent brain injury, and promote recovery and resilience. 
Dianne also investigates HIV infection of the CNS and the interplay of drugs of abuse in damage to the brain. Studies supported by NIH focus on changes to cells of the brain in the context of HIV infection and cocaine use, whereby energy deficit in glial cells leads to toxic effects to neurons. Other research projects into HIV-related neurodegenerative and neurorestorative processes center on protein-protein interactions that lead to disrupted neuronal signaling.  
Dianne had been at Temple University for 12 years when she began thinking about the impact that her research was making to the scientific community and to our increased understanding of brain disorders. She started looking to her students and to junior faculty and considering the diverse paths that they were on to reach their career goals as scientists.  Given her experience and having learned from many mistakes she decided to expand her role into leadership where she could provide infrastructure to stuents and colleagues in biomedical sciences. She was given the opportunity to serve as Associate Dean for Resrach where she enjoys meeting students and faculty on a daily basis to build team science and improve programtic resources at LKSOM and Temple University. A typical day in this role usually involves hearing about research ideas from medical students and matching them with scientists or physicians with similar interests to creating effective working spaces for our faculty to conduct research. It  is a very challenging and rewarding job, that she looks forward to everyday.