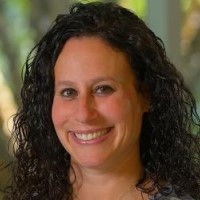 Lisa Etkins, MSS, LCSW, OSW-C grew up in a suburban neighborhood west of Philadelphia.  As a girl, Lisa was always drawn to helping and interacting with people of any age. For instance, in elementary school, she participated in a program where kids would "adopt" a grandparent from a local nursing home.  During the program the grandparents would read to the kids and the kids would do art project with the residents.  This was always something she looked forward to.  When she was twelve, Lisa started babysitting two little boys in her neighborhood.  
In high school, Lisa gravitated towards sports.  She was the Captain of the girls' tennis team as a senior and Varsity Lacrosse player as well.  Beyond sports, Lisa loved the sciences and initially chose the pre-med track to bring together her interests in science and helping people.  She dreamed of becoming a physician.
Lisa joined The Pennsylvania State University and started in the College of Liberal Arts in the pre-med track.  Unfortunately, socializing and extracurricular activities led her not study to the extent required to maintain her initial trajectory. She began to feel that maybe the pre-med track wasn't for her after all. To get more career guidance, Lisa met with advisors and tried to figure out what she wanted to be when she grew up.  Luckily, she had been volunteering at The Renfrew Center for women with eating disorders while home in the summers and thought, being a therapist might be a great fit.  As a result, Lisa switched majors to Human Development and Family studies with a minor in psychology.  In addition to her studies, Lisa became very involved with the annual Dance Marathon, which has raised more than $180M for the Four Diamonds Fund benefitting pediatric cancer patients.  Through THON, she found her interest in oncology and realized that she loved working with patients and listening to their stories.   With these interests in hand, she plotted her next move by conducting informational interviews with professionals with all different degrees in mental health, Psy.D, Master in Ed, Ph,D and MSW's.  For these interviews, she decided to focus on a master's degree in social work eventually applying to Bryn Mawr and the University of Pennsylvania.  She was lucky enough to get into both programs and after much deliberation, chose Bryn Mawr Graduate School of Social Work and Social Research, on the clinical spectrum.
During the two years of the Master's program, each student completes a hands-on learning field placement to learn on the job in the field with other social workers.  Her first placement was in a   program for pregnant and parenting teens learning about life skills and trying to obtain their GEDs.  The second placement was in medical social work in a hospital covering oncology patients.  This is where Lisa found her niche.  She loved the hospital setting, being with multidisciplinary teams, counseling patients and families impacted by cancer, and in the hospital where she always wanted to be.
Lisa began her professional career as an oncology social worker at Bryn Mawr Hospital, spending almost five years there, doing inpatient and outpatient oncology social work. However, despite really liking her job, Lisa was the only oncology social worker at that hospital and found it to be very isolating without great professional supervision.  After seeing an opening for a position at Fox Chase Cancer Center, she applied, and made the leap to the new position.  Fast forward 14 years: Lisa is still working at Fox Chase and loving every minute of it.  Her current role focuses on lung and hematologic cancer patients.