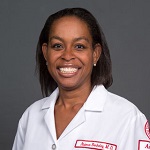 Abby grew up in the Caribbean where she was educated through high school. She then attended Swarthmore College where she majored in English Literature.
After college, Abby completed her Juris Doctorate at the University of Pennsylvania. She practiced Litigation as well as Labor and Employment law at two top Philadelphia law firms before deciding to pursue a degree in medicine.
Abby ventured to the University of California, San Francisco to study medicine. During medical school, she found herself fascinated by the diverse interests of the anesthesiologists she met. This led her to pursue a residency in Anesthesiology and a Fellowship in Pain Medicine at New York Presbyterian/Weill Cornell in New York. In 2009, Abby moved yet again, returning to Philadelphia to join the medical staff at Temple University Hospital.
In addition to her interests in the law and medicine, Abby mentored junior clinicians as the Residency Program Director for Anesthesiology for eight years. In 2021, Abby also became the Interim Senior Associate Dean of Diversity, Equity, and Inclusion.  In this role, she is able to work with recent college graduates and help to propel them into careers that are exciting and rewarding.