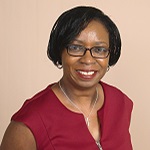 Charnita Zeigler-Johnson, PhD, MPH, enjoyed many different subjects as a child growing up in Philadelphia. Writing, math, biology, and foreign languages were among her favorites. In high school, she developed a love for psychology. She initially decided to major in pre-med and psychobiology at Albright College in Reading, PA. Multiple small animal research projects focused on neonate development and behavior led her to a summer research program in Northwestern University's Neuroscience program. A year later, she began a doctoral program in Behavioral Neuroscience at the University of Pittsburgh.
After more than a year studying neuroscience and conducting animal research, Charnita decided that a different training experience would be better suited to her desire to work directly with humans and to address health concerns that were most important to her community. Her graduate school mentor suggested that she build upon her research in reproductive neurophysiology and transfer into a doctoral program in the Graduate School of Public Health at the University of Pittsburgh. There, she majored in chronic disease epidemiology with a focus on women's health and cardiovascular disease. She also developed a passion for health disparities research and began participating as a speaker in community outreach events. Dr. Zeigler-Johnson obtained her MPH and PhD in epidemiology and then moved back home to Philadelphia to join her husband in ministry.
Upon returning home, Charnita worked briefly as a project manager at Fox Chase Cancer Center before accepting a postdoctoral position in molecular epidemiology at the University of Pennsylvania with Dr. Timothy Rebbeck. There she began building her career as a prostate cancer disparities researcher and international researcher before eventually joining the faculty. She also continued her community speaker engagements and mentored summer students. Later, she moved to Thomas Jefferson University where she pursued multidisciplinary cancer research, including prostate, lung, and breast. While there, she mentored students and trainees from high school to post-graduate level and obtained a secondary appointment with the College of Population Health. She continued to grow her community network as a leader of the PA Cancer Coalition.
Dr. Zeigler-Johnson recently returned to Fox Chase Cancer Center to lead the Community Outreach and Engagement core. She plans to continue building upon years of cancer disparities research, multidisciplinary training, and community service to increase health equity in the Philadelphia region and beyond.
 
Her research focuses on defining cancer risk factors and better understanding racial and socioeconomic disparities in the U.S. and international settings. Her specific interests include obesity, genetic pathways, inflammation markers, clinical characteristics, neighborhood factors, and gene-environment interactions. Currently, she is Principal Investigator of a multi-institutional, mixed-methods study focused on examining the relationship between neighborhood-level structural racism and prostate cancer outcomes. Charnita is a member of the leadership team for the African-Caribbean Cancer Consortium (AC3) and an active member of the Pennsylvania Cancer Coalition.