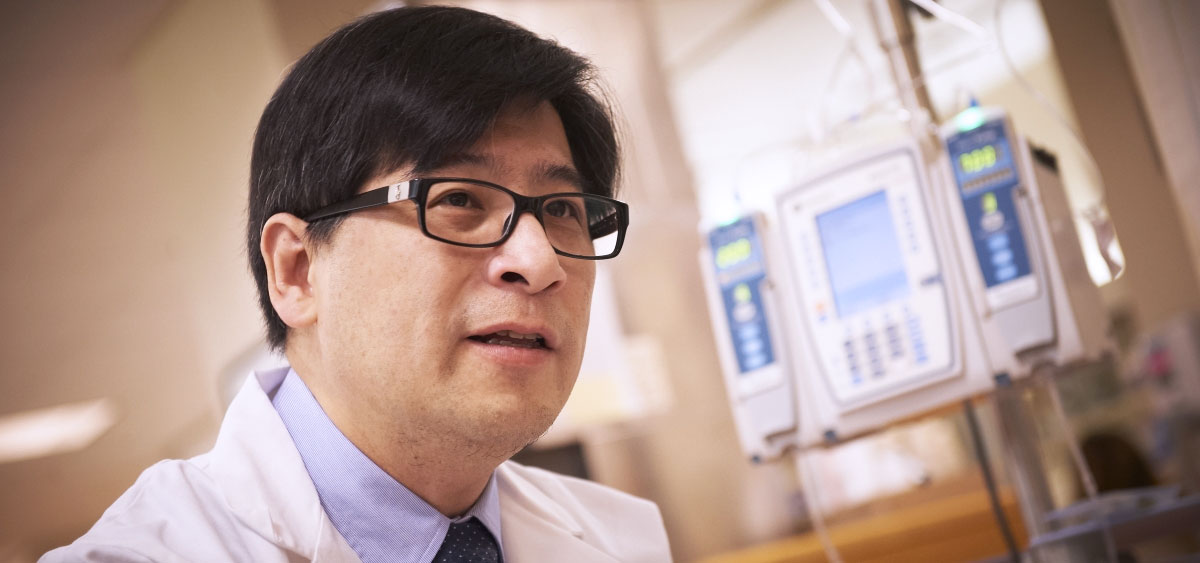 Through our highly ranked Bone Marrow Transplant Program, Fox Chase Cancer Center and Temple Health physicians provide bone marrow and stem cell transplantation to improve long-term outcomes for patients with blood cancers and other blood-related disorders.
We perform 100–150 blood and bone marrow transplants each year at our state-of-the-art facility, which is solely dedicated to performing transplants, and every member of our team is specially trained in blood and bone marrow transplantation and has extensive experience in managing all transplant types.
Why Choose the Fox Chase-Temple University Hospital Bone Marrow Transplant Program?
Our BMT Program is fully accredited by the Foundation for the Accreditation of Cellular Therapy (FACT)—the gold standard of excellence for blood and bone marrow transplant programs in the United States—and the National Marrow Donor Program (NMDP). We meet and exceed the rigorous criteria established by these organizations based on the high number of transplants we perform, our level of expertise, and the support personnel available for our patients.
Fox Chase has received the highest designation from the National Cancer Institute (NCI) as a Comprehensive Cancer Center, an elite center recognized for excellence in cancer treatment, research, prevention, and education. This means our patients receive sophisticated care and have access to a wide range of state-of-the-art treatment options.
Our physicians have performed thousands of bone marrow and stem cell transplants since the BMT Program began—including allogeneic, autologous, and haploidentical transplantations.
Older patients in need of transplants are not turned away from our program due to their age. Nearly 25 percent of our patients are older than age 65.
Our BMT Program is one of few programs in the country to offer bloodless transplant procedures for patients who request this complex technique.
We actively participate in our own investigator-initiated research and trials from the ECOG-ACRIN Cancer Research Group and the Blood and Marrow Transplant Clinical Trials Network (BMT CTN). Our researchers work collaboratively to bring the most promising discoveries from the laboratory into the clinical setting, where they can directly impact patients.
Our multidisciplinary approach allows patients to benefit from the opinions of many experienced physicians. We work closely to develop care plans to meet the specific needs of each patient and meet regularly to discuss patient progress.
We offer patients, their caregivers, and their families a wide range of support services to address the emotional, physical, and social challenges that often come up before, during, and after bone marrow transplantation.
All hospital services are provided by Temple University Hospital.
What To Do Next
You can request an appointment online or call 215-214-3122. For general information or to ask us a question, please visit our Contact Us page.
12020 Transplant Center-Specific Survival Report, Center of International Blood and Marrow Transplant Research (CIBMTR), a research collaboration between National Marrow Donor Program®/Be The Match® and Medical College of Wisconsin.