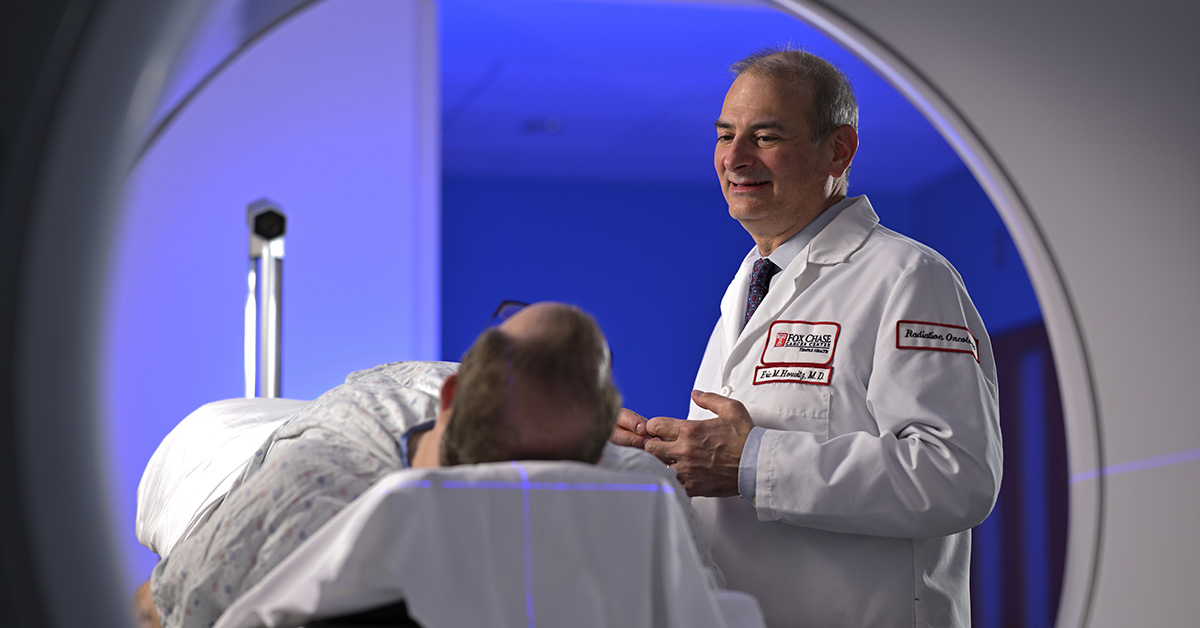 Adaptive Radiation Therapy is a revolutionary, FDA-approved treatment approach that allows real-time adjustments of the radiation plan to account for the cancer's changing responses to radiation, the size and position of the tumor, and the location of nearby organs. Fox Chase is the only regional cancer center to explore its possibilities using this technique on and off clinical trials to develop even more sophisticated radiation treatments.
With other radiation therapy techniques such as Intensity Modulated Radiation Therapy (IMRT) or Stereotactic Body Radiation Therapy (SBRT), the radiation oncology team creates a treatment plan before the start of therapy and they use the same plan throughout. Adaptive Radiation Therapy, however, is different. The team at Fox Chase is using CBCT (cone-beam computed tomography)-based adaptive radiation therapy to gain more control over where they're aiming the radiation dose, as they can modify (or adapt) their treatment plan to accommodate anatomical changes to the tumor and surrounding organs and tissues. These changes in radiation can be small or large, but it allows the radiation oncologist to administer the most accurate, focused radiation dosage possible to the cancer. This also reduces radiation exposure for normal, healthy tissue and helps minimize side effects.
How does Adaptive Radiation Therapy work?
Fox Chase Cancer Center specialists offer Adaptive Radiation Therapy through Ethos, a state-of-the-art linear accelerator (linac) that combines the treatment accelerator, built-in cone beam CT imaging, as well as special treatment planning software built into the linac.
The new adaptive radiotherapy system treatment planning works in real time, taking advantage of modern high-powered computing and extremely fast imaging with CT scanner built into the linac to rescan and recalculate the treatment plan. The Ethos linac can generate sophisticated treatment plans in a matter of minutes, all while the patient is on the treatment table. The radiation oncologists get a "living picture" of the tumor and the tissues and organs surrounding it to determine exactly where the tumor is, how big is it, and where the surrounding normal structures are to the millimeter. Based on what the medical team sees, the radiation treatment plan is adjusted and adapted to reflect what is happening in that moment – such as if the patient has lost weight, or if organs have slightly shifted. This daily review translates into a new real-time treatment plan that ensures the optimal radiation dose hits the cancer while minimizing damage to healthy tissue and organs with each radiation fraction or treatment.
Who is a candidate for Adaptive Radiation Therapy?
Patients who are a candidate for SBRT and some IMRT can opt for Adaptive Radiation Therapy as standard treatment. Some patients can also take advantage of this technology by participating in and receiving treatment on a clinical trial. Starting with clinical trials on treatment of prostate cancer, Fox Chase also plans investigator-initiated studies in cervix, bladder, pancreas, lung, and head and neck cancers using this technology.
"Part of our mission as a national cancer center is to utilize sophisticated technology to get better control of someone's cancer, while at the same time having the fewest side effects possible. Introducing Adaptive Radiation Therapy at Fox Chase allows us to bring unique state-of-the-art cancer treatment to many patients, one not offered anywhere else in the region," says Eric Horwitz, MD, FABS, FASTRO, chair of the Department of Radiation Oncology at Fox Chase and the Lewis Katz School of Medicine at Temple University.