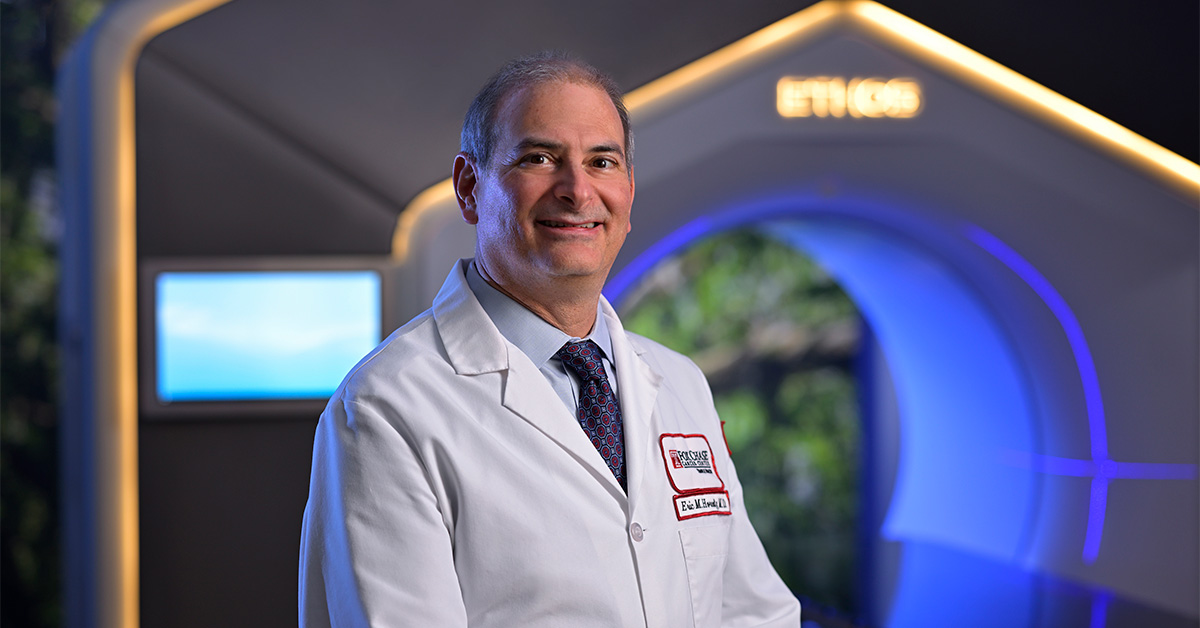 PHILADELPHIA (May 10, 2023)—Fox Chase Cancer Center has begun offering cone-beam computed tomography (CBCT)-based adaptive radiation therapy, a technique that allows a patient's radiation treatment to be adjusted in real time to accommodate changes in the body such as tumor shrinkage and/or the position of the adjacent normal organs.
In addition, adaptive radiotherapy is designed to enable more precise tumor targeting due to the ability to modify the treatment plan immediately before each radiation treatment. Being able to adapt a patient's radiation plan for each treatment may enable the clinician to more accurately deliver the treatment as the physician intended. Fox Chase is the only hospital in the Philadelphia area to offer this type of therapy.
Fox Chase will be using the Ethos therapy system from Varian, a Siemens Healthineers company. The Ethos system is a linear accelerator that includes CBCT imaging technology and artificial intelligence-based software to power the adaptive treatment process.
The Ethos system can treat patients undergoing both adaptive and non-adaptive radiation therapy. Adaptive radiation therapy can be used in conjunction with MRI, PET, and CT scans to quickly administer precise doses of radiation.
Due to the personalized nature of adaptive radiotherapy, a clinician may be able to deliver even higher doses of radiation to the cancer while sparing healthy organs and cells. Another advantage of CBCT-based adaptive radiation therapy is that it can be delivered within a typical treatment timeslot.
"When we treat patients with conventional radiation therapy technology, we have a single treatment plan developed in advance and we are limited to making only daily changes in patient position at the time of treatment to make sure that the person is aligned as accurately as possible so the radiation goes where we aim it," said Eric Horwitz, MD, FABS, FASTRO, chair of the Department of Radiation Oncology at Fox Chase and the Lewis Katz School of Medicine at Temple University.
"But adaptive radiation therapy takes us one step further. Now, not only can we adjust the position of the patient, but we can actually adjust the radiation plan itself in real time on a daily basis to take into account what's in front of us. We view this as an advanced way of safely giving a large dose of radiation to the cancer and protecting the normal healthy cells at the same time," he said.
Horwitz's experience with this approach goes as far back as 1997, when he was a resident in radiation oncology and co-author on one of the earliest published studies on adaptive radiation therapy. In that paper, which was published in the International Journal of Radiation Oncology Biology Physics, the authors concluded that the treatment of individual patients could be improved with the adaptive modification process.
"I remember all the conversations about this insanely labor-intensive process to measure changes in treatment," Horwitz said of that study. "We were trying to figure out if modifying the treatment plan during a course of radiation would make the treatment more accurate."
The Ethos system was cleared by the Food and Drug Administration several years ago to treat many different cancers, from the head and neck through the pelvis, and it will be used at Fox Chase to treat many of these cancers. But Fox Chase physicians and physicists will also use this technology to develop even more advanced ways to treat different cancers as part of their mission as a National Cancer Institute-designated Comprehensive Cancer Center.
While the Ethos system will be used to treat many patients with adaptive radiation therapy, the team at Fox Chase is planning on using this new technology to develop even more ways to treat patients with bladder, pancreas, lung, and head and neck cancer in clinical trials.
"What's great about this technology is that essentially anyone who is a candidate for stereotactic body radiation therapy or any other external-beam radiation therapy would be a candidate for adaptive radiation therapy. So patients have the benefit of using this technology for their standard treatment, but we will also have patients who can take advantage of this as part of the clinical trials," said Horwitz.
"The introduction of adaptive radiation therapy at Fox Chase will allow us to offer a truly unique state-of-the-art cancer treatment to many patients, a treatment that is not offered anywhere else in the Philadelphia area," he said.