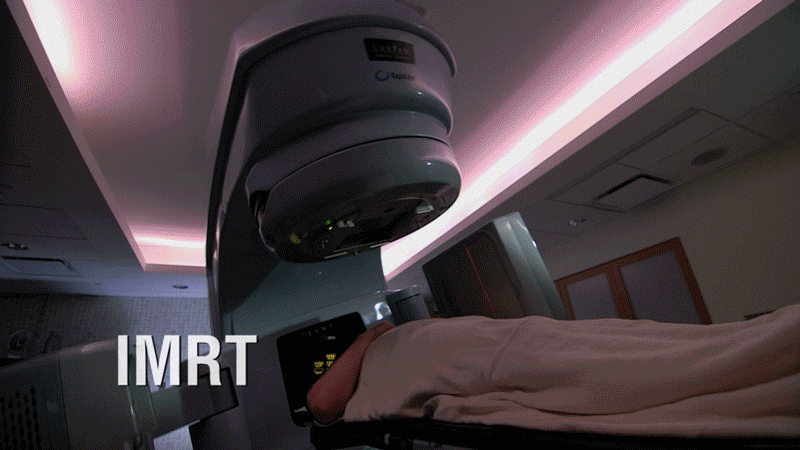 Volumetric modulated arc therapy (VMAT) is an advanced form of IMRT that delivers a precisely sculpted 3D dose distribution with a 360-degree rotation. In addition to sparing more normal tissue than other techniques, it also can offer reduced treatment delivery time compared to standard IMRT treatment. It is used to treat cancer tumors in the prostate, pelvis (lower gastrointestinal and gynecological), head and neck, thoracic, central nervous system, breast and other locations.
Intensity Modulated Radiation Therapy (IMRT) and Volumetric Modulated Arc Therapy (VMAT) allow our physicians to precisely target tumors and deliver higher doses of radiation tailored for each patient by combining data from MRI and CT scans. As a result, patients generally experience fewer side effects. Using IMRT/VMAT, doctors can shape, or conform, several small radiation beams to the tumor while reducing radiation to healthy tissue. IMRT/VMAT is used to treat patients with prostate, breast, lung, gastrointestinal cancers, cervical, endometrial and head and neck cancers.
Fox Chase Cancer Center was the first in the region to use VMAT and IMRT and our physicians have the most and longest experiences with these technologies in the United States.
3-Dimension Conformal Radiation Therapy (3D-CRT) is similar to IMRT but may offer a better outcome for some types or locations of cancer. Radiation oncologists develop individually tailored treatment plans using 3-dimensional imaging to precisely shape the radiation beams to the tumor. Depending on the circumstance of the cancer, 3D-CRT is often preferred over IMRT because there are fewer radiation beams, allowing doctors to completely avoid healthy tissue when appropriate. 3D-CRT is used to treat certain patients with lung, gynecologic, gastrointestinal, bladder, and brain cancers.
Fox Chase developed 3D-CRT and pioneered its use in prostate cancer.