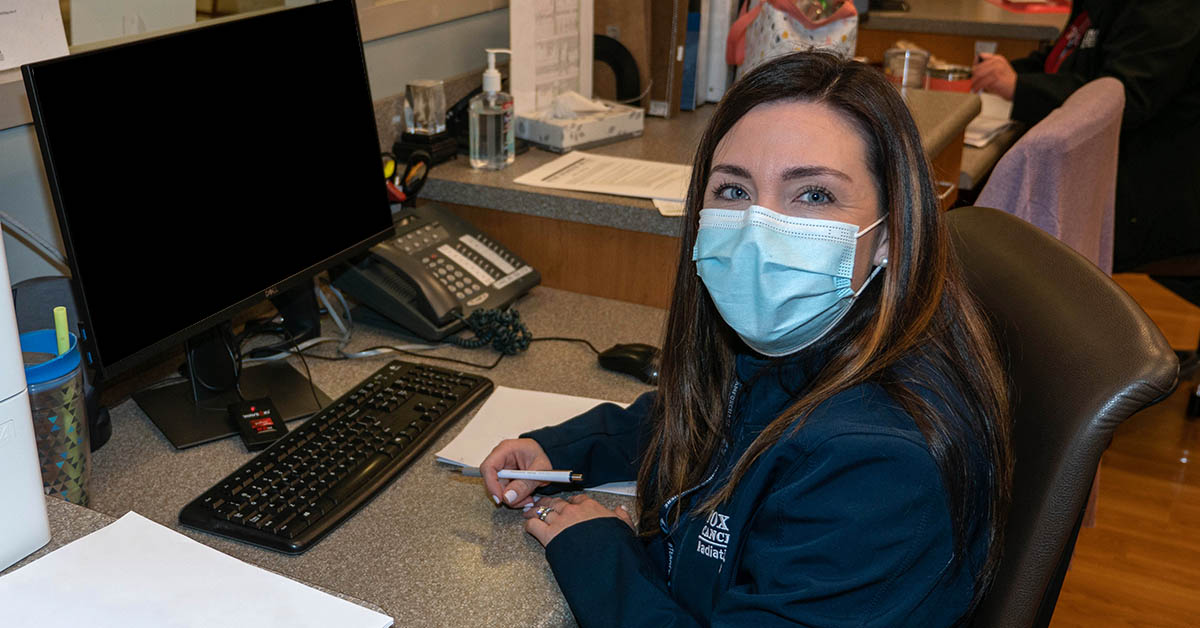 Nursing care at Fox Chase Cancer is comprehensive and encompasses all aspects of patient care related to their treatment and care.  Fox Chase is equipped with outpatient as well as inpatient services, including perioperative and critical care services to anticipate and deliver patient care.
Ambulatory Care nursing at Fox Chase incorporates medical, surgical and radiation oncologists with collaborative practice nurses to determine and provide the best treatment program for each patient. Here nurses are an integral and professional member of the treatment team. The facility incorporates central registration for all outpatients, radiology and laboratory testing, pharmacy and respiratory services and examination and consultation rooms for surgical, medical and radiation therapy outpatient office visits.
The Infusion Room at Fox Chase provides infusion services for patients requiring chemotherapy, non-chemotherapy infusions, hydration, and blood product transfusions. The number of treatments and the length of the infusion process depends on services the patient requires.  
This area provides urgent care for FoxChase outpatients upon referral by their primary Fox Chase medical, surgical or radiation oncologist.
Fox Chase Cancer Center does not have an Emergency Room (ER). If it is a true emergency, please call 911. If you have an urgent need in between your doctor visits or treatments, you may be directed to Fox Chase's Direct Referral Unit (DRU).
In the department of radiation oncology, our goal is to develop and implement treatment programs geared towards maximizing the chances of curing cancer while minimizing the radiation dose to normal organs. We aim to maintain your quality of life and preserve your normal organ function. Our radiation oncologists maintain strong academic, clinical and research interests, and a commitment to your overall wellbeing.
Perioperative Services are comprised of the Operating Room (OR), Pre-Op Unit, Same Day Surgery Unit (SDSU), Post Anesthesia Care Unit (PACU) and the Endoscopy Suite.  The surgical battle against cancer has advanced using modern technology and new treatment modalities. Approaches include lasers, ultrasonic aspiration of tumor tissues, microvascular reconstruction, cryosurgery, and sentinel node biopsy for melanoma and breast cancers.
Telemetry nurses work with critically ill patients who require the use of monitoring devices, such as those that measure heart rates, breathing rates, blood pressure, and oxygen levels. Nurses monitor patients at their bedsides and provide medications as well as provide remote telemetry services in which monitors for telemetry devices are in a central location.
The medical-surgical unit provides coordinated and innovative care for patients from administering medications, educating families, discharging as well as keeping the entire healthcare team on the same page.  The unit applies sophisticated skills to help reduce noise, prevent falls and pressure ulcers.  
Fox Chase Nurse Navigators are available at the beginning of your cancer journey leading up to your first appointment.  They assist and educate patients and their families during a stressful time.  You can also find Fox Chase nurse navigators working in our hospital, helping patients transitioning from inpatient to outpatient.