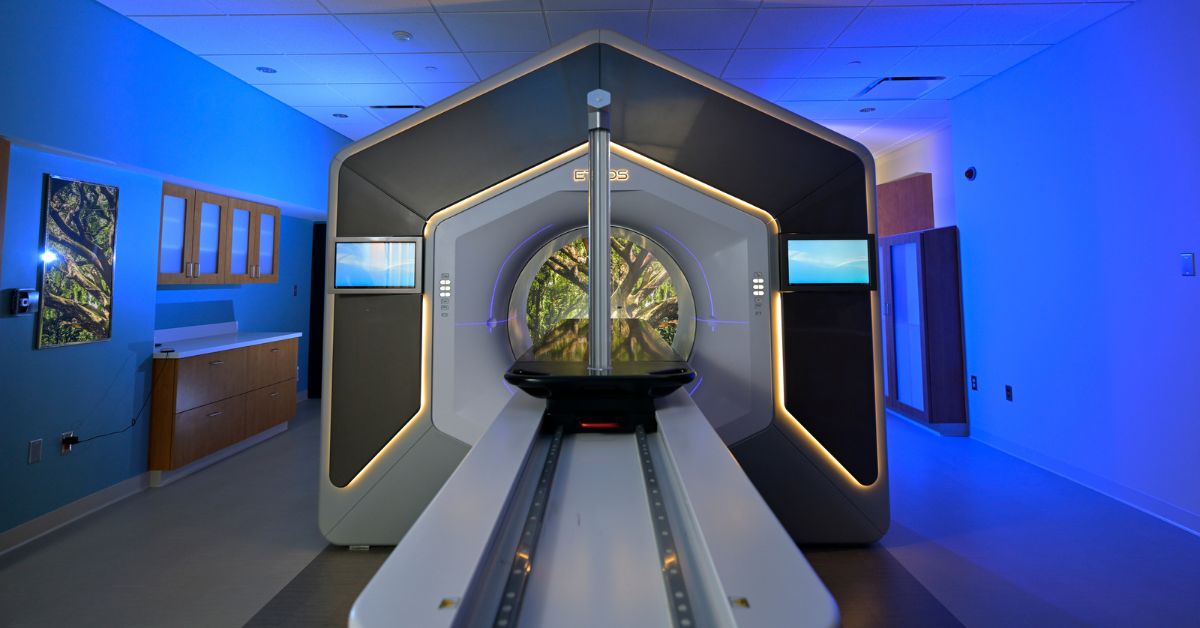 VIEW ALL POSTS
Cancer Care that Adapts to You
Adaptive Radiation Therapy uses advanced technology to offer precision cancer care

Advanced technology is making cancer care more effective and at Fox Chase Cancer Center, we're committed to offering leading-edge care. One example: with the Ethos Adaptive Radiation Therapy system, we're able to precisely target tumors as they change from day to day.

A treatment that adapts to your needs

Adaptive radiation therapy is a revolutionary form of radiation treatment that adjusts to real-time changes in a person's cancer and the position of the normal organs next to the cancer. This technology allows the patient's physicians to modify each radiation treatment to more precisely hit the cancer while better missing the normal organs next to it.

At Fox Chase, we offer adaptive radiation through the Ethos Adaptive Radiation Therapy System, a state-of-the-art linear accelerator that utilizes cone-beam computed tomography (CBCT) imaging technology and artificial intelligence-based software to deliver treatment that is more accurate based on the real-time location of the cancer and the normal organs.

Non-adaptive forms of radiation therapy are customized to each patient's clinical situation - the size and location of the cancer and the size and location of the normal organs next to the cancer. But non-adaptive radiation treatment typically involves just one planning session before a patient starts their radiation therapy. That planning session is part of the process that determines where and how the radiation will be delivered, and in what dose, for the entire duration of treatment. It doesn't account for changes that may occur over multiple radiation sessions.

Now, the Ethos therapy system uses advanced imaging scans to show how a patient's cancer is responding to treatment. It can tell whether a tumor has moved or shrunk, even by a few millimeters. The scans also provide precise locations of nearby healthy organs, which can shift over the course of treatment.

Fox Chase radiation oncologists use those scans and the Ethos artificial intelligence technology to monitor and adjust or re-plan the radiation treatment on a daily basis. For patients, that means a game-changing improvement in precision and flexibility. Adaptive radiation therapy allows for the most precise radiation treatment on a daily basis.

The detailed, up-to-date information provided by the Ethos therapy system means we're able to precisely deliver higher doses of radiation to cancerous cells—while sparing healthy organs and cells. That can lead to better outcomes for patients, with fewer side effects. And it's all done as quickly as a typical radiation therapy session, about 15-30 minutes.

Who is a candidate?

Adaptive radiation therapy with the Ethos system may be an option if you or a loved one have been told that you're a candidate for stereotactic body radiation therapy or intensity-modulated radiation therapy.

The Ethos therapy system is used to treat many kinds of cancers, including prostate, pancreatic, liver, and some head and neck cancers. It can also treat cancers that have spread to small lymph nodes or small areas of bone.

Leading-edge treatments

Fox Chase is the only regional cancer center to offer Ethos Adaptive Radiation Therapy. And we're exploring new ways to use this breakthrough technology to further improve cancer care. Clinical trials in men with prostate cancer are already underway, with trials in cervical, bladder, pancreas, lung, and head and neck cancer to soon follow. If you think a clinical trial might be right for you, call one of our patient navigators at 215-214-1515 to get started.