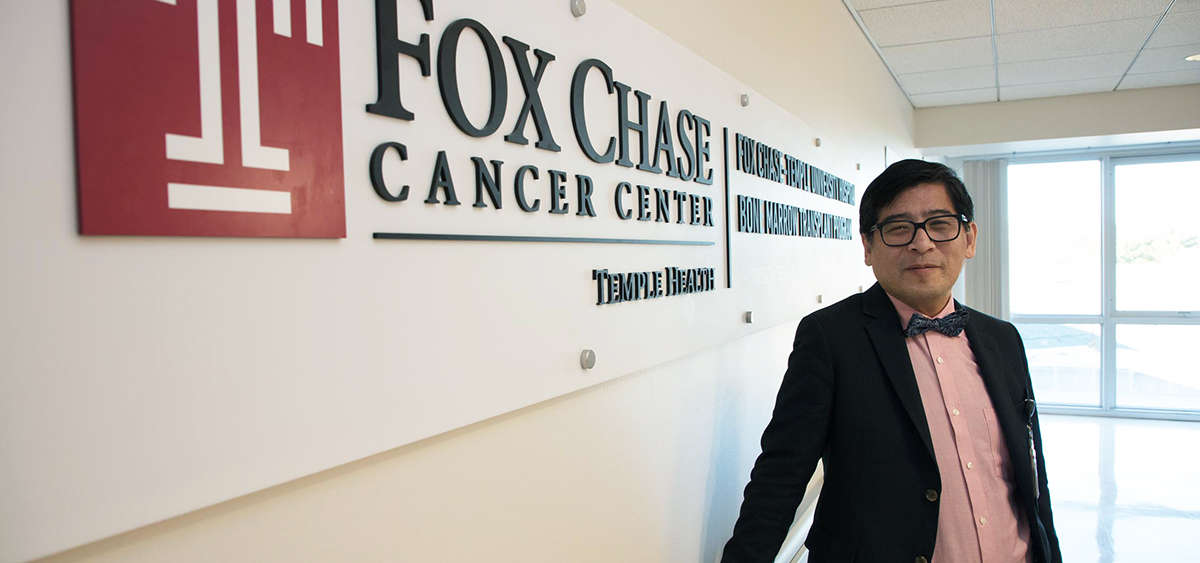 Villanova, Pennsylvania (February 27, 2018) – The Andy Talley Bone Marrow Foundation will present their first "Game Changer Award" to Dr. Henry Fung and the Fox Chase-Temple University Hospital Bone Marrow Transplant Program during the 7th Annual Bash, this Saturday, March 3rd at the Springfield Country Club.
Tickets are on sale at https://atbmf2018.auction-bid.org/microsite/.
The St. Patrick's Day "pre-game" celebration will bring members of the community together to celebrate the live-saving programs of The Andy Talley Bone Marrow Foundation, with live music, dancing, a three-course dinner, full open bar, and both a live and silent auction.  The Springfield Country Club is located at 400 West Sproul Road, Springfield, PA 19064.
Master of Ceremonies for the evening is longtime Philadelphia sports personality and NBC Sports Philadelphia anchor Michael Barkann.  Former Villanova Football and Philadelphia Eagles standout Kevin Reilly will conduct the live auction.
Since its start in 1990, the Fox Chase-Temple BMT Program has performed more than 1,700 transplants for patients with leukemia, lymphoma, multiple myeloma, aplastic anemia and other disorders.
Fox Chase Cancer Center physicians and Temple Health staff provide bone marrow and stem cell transplantation to improve long-term outcomes for patients with blood cancers and other blood-related disorders. Their board-certified hematologic oncologists perform more than 100 blood and bone marrow transplants a year. That number continues to rise, as they recently opened a new 11,500-square-foot outpatient clinic. The state-of-the-art, $2 million facility occupies the entire fifth floor of the Patient Care Center at Jeanes Hospital.
Among its honors and recognitions, Fox Chase earned the highest designation from the National Cancer Institute (NCI) as a Comprehensive Cancer Center, an elite center recognized for excellence in cancer treatment, research, prevention, and education.  The Fox Chase-Temple University Hospital BMT Program is one of only three institutions in the country to provide bloodless transplant procedures for patients who request this complex technique.  They earned the status of a "Blue Distinction Center for Transplants" by IBC in 2015 in recognition of the Fox Chase-Temple University Hospital Bone Marrow Transplant (BMT) Program's expertise in performing adult bone marrow transplants.  The program is fully accredited by the Foundation for the Accreditation of Cellular Therapy (FACT)—the gold standard of excellence for blood and bone marrow transplant programs in the United States—and the National Marrow Donor Program (NMDP).
In addition, the Fox Chase-Temple BMT Program actively participates in research from their own institutions, the ECOG-ACRIN Cancer Research Group and the Bone Marrow Clinical Trials Network (BMT-CTN). Their researchers work collaboratively to bring the most promising discoveries from the laboratory into the clinical setting, where they can directly impact patients.
Dr. Fung is a well-known leader in the field of blood diseases and bone marrow transplantation and is internationally recognized for his clinical and scientific expertise in bone marrow transplantation. He came to Fox Chase from Rush University Medical Center, where he was Professor of Medicine since 2005. While there he served as Director of the Section of Bone Marrow Transplant and Cell Therapy; Director of the Coleman Foundation Blood and Marrow Transplant Center, where he also held the Coleman endowed chair; Clinical Leader of Hematologic Malignancies; and Senior Attending Physician.
He received his MBChB (Bachelor of Medicine and Bachelor of Surgery degrees) from the Chinese University of Hong Kong and completed his internal medicine training through the Royal College of Physicians in the United Kingdom. Dr. Fung interned at the Prince of Wales Hospital, Chinese University of Hong Kong and undertook his residency at Queen Mary Hospital, Hong Kong University.
He completed his training as a hematology/BMT fellow at Vancouver Hospital and Health Science Center, British Columbia Cancer Control Agency, University of British Columbia. His first faculty appointment was as an Attending Physician and Clinical Investigator, Division of Hematology and Bone Marrow Transplantation, City of Hope National Medical Center and Beckman Research Institute and City of Hope Comprehensive Cancer Center.
Dr. Fung has received many professional honors and awards, including the Excellence Award from the Chicago Chapter of the Lymphoma Research Foundation; an Innovation Award from the American College of Health Executives; and designation as one of the Leading Physicians of the World and the Top Oncologist in Chicago from the International Association of Oncologists.
Recognition will be given at the "Bash" to Joseph Pawlowski, a Lycoming College Football player who registered as a potential donor at Lycoming Football's first "Get in the Game, Save A Life" drive in the spring of 2015, was selected as a match, and in November 2015, he had the opportunity to save a football game on Saturday, and a life just four days later.  Pawlowski will be recognized, as will the patient who got a second chance, together for the first time in public.
Perhaps the most compelling story to be told at this year's "Bash" is that of seven-year-old Thor Forte, who has Sickle Cell Anemia and to date, no match for him has been found.  Young Thor will be in attendance Saturday night with the goal of finding his match.
The mission of The Andy Talley Bone Marrow Foundation, which raises awareness, funds and registers donors on behalf of the national Be The Match Registry®, is to increase the odds of finding lifesaving donors for patients in need of a marrow transplant, by registering young, committed donors to the Be the Match Registry.  In partnership with Be The Match, operated by the National Marrow Donor Program®, Talley launched the "Get in the Game. Save a Life" initiative. Coach Talley has enlisted over 100 college football programs to participate in the "Get in the Game, Save a Life" initiative, with each college football program hosting their own on-campus donor drives each spring.
Since 2008, The Andy Talley Bone Marrow Foundation's "Get in the Game, Save a Life" registry drives have been responsible for adding over 84,000 potential donors. More importantly, there have been over 400 transplants that have occurred with the program's donors, giving those patients a second chance at life. The Andy Talley Bone Marrow Foundation's fundraising efforts include events, such as their annual "Bash" in the Philadelphia area and several golf outings, to help support the expense of registering approximately 10,000 new bone marrow donors each year.  With a price tag of $100 per donor per test, the program relies on charitable donations from corporate sponsors and individuals to support the program.  To date, The Andy Talley Bone Marrow Foundation has raised over $400,000 in support of the Be The Match program. Additional information about The Andy Talley Bone Marrow Foundation is available on their website athttp://www.TalleyBoneMarrow.org.
Andy Talley Bone Marrow Foundation Media Contact:
Jim DeLorenzo, Jim DeLorenzo Public Relations
Phone: 215-266-5943
E-mail:  [email protected]