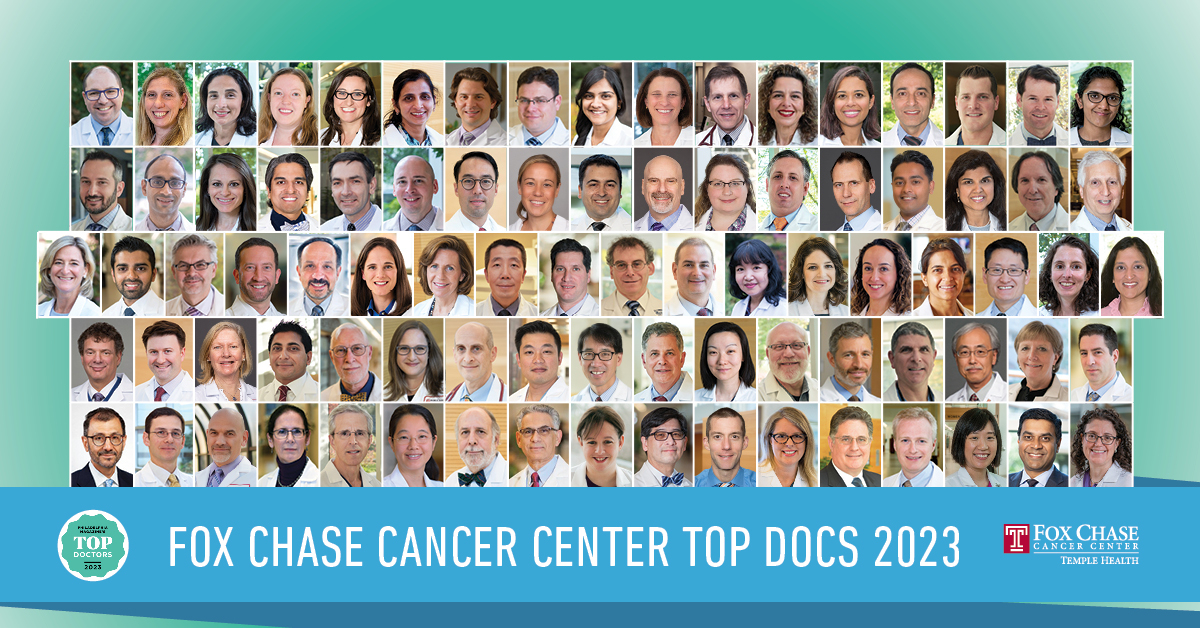 PHILADELPHIA (April 24, 2023)—Eighty-six Fox Chase Cancer Center physicians have been named to Philadelphia magazine's "Top Doctors" list for 2023. Physicians on the list were nominated by a national survey of their professional peers.
"We are pleased that this year's Philadelphia magazine 'Top Doctors' issue once again recognizes Fox Chase's physicians for the high quality care and expertise that they provide for their patients. The fact that 86 Fox Chase physicians are recognized, which is a significant increase over last year, speaks volumes about the superb, comprehensive cancer care that Fox Chase is able to offer patients," said Robert Uzzo, MD, MBA, FACS, President and CEO of Fox Chase.
"A Philadelphia magazine 'Top Doctors' designation is particularly significant because this recognition is based on professional peer nominations. The inclusion of our physicians reflects the high regard in which they are held for their expertise and career achievements," Uzzo added.
The 2023 Fox Chase "Top Doctors" are:
Andrea Abbott, MD – Diagnostic Imaging
Allison Aggon, DO, FACOS – Surgery
Danish Ahmad, MD – Pulmonary Disease
Fern M. Anari, MD – Medical Oncology
Penny R. Anderson, MD – Radiation Oncology
Abhishek N. Aphale, MD – Dermatology
Igor Astsaturov, MD, PhD – Medical Oncology
Jessica R. Bauman, MD – Medical Oncology
Richard J. Bleicher, MD, FACS – Surgery
Hossein Borghaei, DO, MS – Medical Oncology
Robert J. Brenchak, MD – Internal Medicine
Jason A. Castellanos, MD, MS – Surgery
David Y.T. Chen, MD, FACS – Urology
Emmie I. Chen, MD – Psychiatry
Marcin A. Chwistek, MD, FAAHPM – Pain Medicine
Gary S. Cohen, MD, FSIR – Vascular & Interventional Radiology
Randi J. Cohen, MD, MS – Radiation Oncology
Harry S. Cooper, MD – Pathology
Andres F. Correa, MD – Urology
Paul G. Curcillo II, MD, FACS – Surgery
Emily R. Cuthbertson, MD – Vascular & Interventional Radiology
Crystal S. Denlinger, MD, FACP – Medical Oncology
Efrat Dotan, MD – Medical Oncology
Martin J. Edelman, MD – Medical Oncology
Hormoz Ehya, MD – Pathology
Jeffrey M. Farma, MD, FACS – Surgery
Joseph S. Friedberg, MD, FACS – Thoracic & Cardiac Surgery
Justin I. Friedlander, MD – Urology
Henry C. Fung, MD, FACP, FRCPE – Hematology
Thomas J. Galloway, MD – Radiation Oncology
Daniel M. Geynisman, MD – Medical Oncology
Pooja A. Ghatalia, MD – Medical Oncology
Anshu Giri, MD, MS – Medical Oncology
Stephanie H. Greco, MD, FACS – Surgery
Richard E. Greenberg, MD, FACS – Urology
Alan D. Haber, MD, FCCP – Pulmonary Disease
Michael J. Hall, MD, MS – Medical Oncology
Mark A. Hallman, MD, PhD – Radiation Oncology
Shelly B. Hayes, MD – Radiation Oncology
Eric M. Horwitz, MD, FABS, FASTRO – Radiation Oncology
Angela Jain, MD – Medical Oncology
Stephanie A. King, MD – Gynecologic Oncology
Alexander Kutikov, MD, FACS – Urology
Shane Lee, MD – Vascular & Interventional Radiology
Jeffrey C. Liu, MD, FACS – Otolaryngology
Christopher J. Manley, MD – Pulmonary Disease
Kristen J. Manley, MD – Internal Medicine
Gina M. Mantia-Smaldone, MD – Gynecologic Oncology
Steven J. Mattleman, MD, FACC – Cardiovascular Disease
Joshua E. Meyer, MD – Radiation Oncology
Barton N. Milestone, MD – Diagnostic Radiology
Juhi Mittal, MD – Medical Oncology
Curtis T. Miyamoto, MD – Radiation Oncology
Rajeswari Nagarathinam, MD – Pathology
Reza Nejati, MD – Pathology
Minhhuyen T. Nguyen, MD, AGAF, FACP – Gastroenterology
Anthony J. Olszanski, MD, RPh – Medical Oncology
Joseph N. Panaro, MD – Vascular & Interventional Radiology
Sameer A. Patel, MD, FACS – Plastic Surgery
Kenneth P. Patrick, MD – Family Medicine
Elizabeth R. Plimack, MD, MS – Medical Oncology
Juan Lucas Poggio, MD – Colon & Rectal Surgery
Andrea S. Porpiglia, MD, MSc, FACS – Surgery
Mary Pronovost, MD – Surgery
Sanjay Reddy, MD, FACS – Surgery
John A. Ridge, MD, PhD, FACS – Surgery
Stephen C. Rubin, MD – Gynecologic Oncology
Anthony F. Santoro, MD – Dermatology
Cecelia E. Schmalbach, MD, MSc, FACS – Otolaryngology
Elin Sigurdson, MD, PhD, FACS, FRCS (C) – Surgery
Jay Simhan, MD, FACS – Urology
Mark C. Smaldone, MD, MSHP, FACS – Urology
Ahmed M. Soliman, MD – Otolaryngology
Iberia Sosa, MD, PhD – Hematology
Stacey Su, MD, FACS – Thoracic & Cardiac Surgery
Joseph A. Treat, MD – Medical Oncology
Sangeeta Tyerech, MD – Radiation Oncology
Robert G. Uzzo, MD, MBA, FACS – Urology
Namrata Vijayvergia, MD – Medical Oncology
Rosalia Viterbo, MD, FACS – Urology
Margaret von Mehren, MD – Medical Oncology
David S. Weinberg, MD, MSc – Gastroenterology
Stephanie E. Weiss, MD, FASTRO – Radiation Oncology
Jennifer S. Winn, MD, MS – Medical Oncology
Jian Q. Yu, MD, FACNM, FRCPC – Nuclear Medicine
Matthew R. Zibelman, MD – Medical Oncology