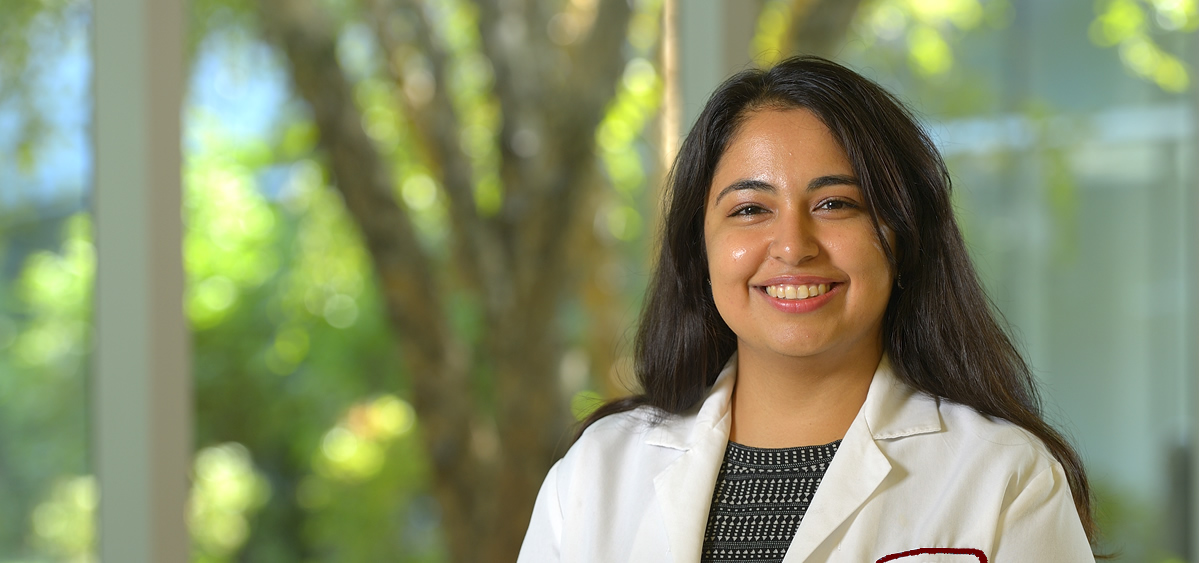 Research Is in Her DNA
When Sanjeevani Arora, PhD, was growing up in India, her family moved a great deal because her father, a physician researcher, was in the army. "Yes, I am an army brat," said Arora, an assistant professor in the Cancer Prevention and Control Program at Fox Chase Cancer Center. Arora said her father is a key source of her interest in science and research.
"His hospital was acquiring all this new equipment so he could do some of the research that he was doing," she said. "He would come home and be like, 'Hey, we have a PCR [polymerase chain reaction] machine. Do you want to come do an internship and learn how to use it?'"
She knew she wanted to be a biologist by the time she started high school, but she never thought about research until later. When she was attending Bangalore University in India, she joined a team of undergraduate research assistants for Geetha Viswanathan, PhD, a genetics researcher who turned out to be a huge early influence. "She motivated undergraduate students to be curious, to question, and explore," Arora said of Viswanathan.
At the same time in Bangalore, there was a biotech company called Biocon that was founded by Kiran Mazumdar-Shaw, who had earned a bachelor's degree in zoology but was unable to obtain a scholarship to pursue her dream of medical school, a hurdle that she overcame.
"She was all over the news, every magazine, every newspaper," Arora said of Mazumdar-Shaw, who is now a billionaire entrepreneur. "She turned the city into a biotech hub. It was a huge deal. Everybody was talking about her. And that really made me very excited. … She seemed like somebody to model my career after."
After getting a master's degree in biotechnology, Arora obtained a position as a clinical laboratory fellow at the highly respected Gujarat Cancer Research Institute. She worked closely with cancer patients processing blood samples, running diagnostic tests, and preparing and delivering their reports.
"Through this process, I realized that there was a lack of effective biomarkers in the clinic for cancer detection and assessing treatment efficacy. At this point, I was really interested in broadening my knowledge of cancer biology and cancer genetics," she said.
Arora came to the United States to obtain her doctorate in biomedical sciences from the University of Toledo Health Science Campus with Steve Patrick, PhD, in the Department of Biochemistry and Cancer Biology. As a doctoral student, she gained expertise in understanding the role of DNA repair mechanisms in chemotherapeutic resistance in cancer.
She then came to Fox Chase as a postdoctoral fellow focusing on genetic predisposition to cancer and risk assessment. After her previous mentor left Fox Chase, Arora began working with Erica Golemis, PhD, deputy chief science officer and co-leader of the Molecular Therapeutics program.
"If not for her encouragement, I don't think I would be doing what I'm doing," Arora said. "I think she saw something in me and really helped me move forward." Since completing her postdoc in 2017, she has risen in the ranks from assistant research professor to assistant professor.
One aspect of Arora's research focuses on ways to determine the effectiveness of treatments for colorectal cancer, with the ultimate goal of allowing for more individualized treatment and preventing some patients from being treated unnecessarily.
She received a Department of Defense Career Development Award for that research and is being mentored by Margie Clapper, PhD, co-leader of the Cancer Prevention and Control Program. She is also being mentored by Joshua Meyer, MD, associate professor in the Department of Radiation Oncology.
In addition to her work in the lab, Arora also founded a professional development and networking group for women in science at Fox Chase in 2013. The group invites speakers in to discuss their career paths, career changes, and challenges.
"There are challenges that I've faced when I've worked on projects, and it's been hard to move things forward sometimes. But having the right kind of mentorship has helped," Arora said.
In addition to research on meeting the needs of families who are at high risk for cancer and in need of personalized treatment, she is now a mentor herself. She has worked with high school, undergraduate, and graduate students through both CURE, a National Cancer Institute program to increase the diversity of cancer researchers, and the Immersion Science Program at Fox Chase, which mentors high school students.