A Leader in Clinical Genetics
For Mary Daly, MD, PhD, FACP, the science of living things has always been more of an art than anything else—a viewpoint that has led her not only to experiences around the world but to numerous accomplishments throughout her career.
Intrigued by a high school biology class, Daly, now a professor in the Department of Clinical Genetics at Fox Chase Cancer Center, knew then and there that her life's work would be related to biology. "I was just fascinated by how things live and how they survive," Daly said of her early years in Bridgeport, Connecticut.
Daly went on to be the valedictorian of her high school class and was admitted to The College of New Rochelle, a small Catholic women's school.
"The two best departments that they were known for were biology and art. And I thought, 'I was tailor made for you.' I'm thinking, 'Should I do biology or should I do art,'" she said. "Obviously, I did biology, which I don't regret."
That decision led Daly to experiences outside the classroom. After getting married, she decided to go to Africa, where she taught various subjects, including physics, chemistry, algebra, and geometry, in a one-room high school.
"What those three years in Africa taught me was how important public health was because so much of the morbidity around us was caused by poor sanitation, parasitic diseases, poor nutrition, things that could be fixed with a public health policy," she said. Upon returning to the United States, she decided to go to graduate school, a decision complicated by the fact that she now had three children.
She went to the University of North Carolina at Chapel Hill where she received a doctorate in epidemiology. But she was frustrated by her lack of knowledge about the physiology of the diseases she was studying, so she decided to attend medical school. For a year Daly worked as a junior faculty member at the school of public health and then got into the UNC School of Medicine in Chapel Hill in 1974.
"My internship and residency was very strong in oncology.…I did fellowship training in oncology and then I was ready to put together my PhD in epidemiology and my medical school oncology training into some kind of an academic faculty position," said Daly.
She then joined the Air Force Medical Corps, where she was the only woman in the department of oncology. She spent six years at Wilford Hall Medical Center, a U.S. Air Force medical treatment facility in San Antonio, Texas, where she said she received a great education in cancer care.
"There was not much opportunity for research, but we were able to start our own bone marrow transplant program. So I became the chief of that program, where I learned a lot about leukemias and lymphomas," she said.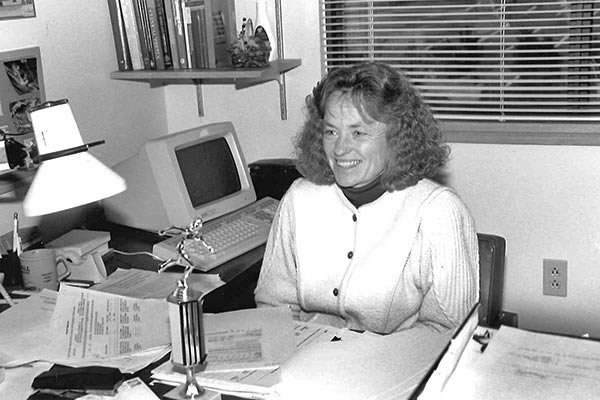 Daly took that experience to Fox Chase in 1989 where she created and later became chair of a high-risk genetics program that only a few years later blossomed into what is now the Department of Clinical Genetics. The department is a comprehensive cancer risk-assessment service that combines the strengths of risk education and clinical genetic testing with individualized options for prevention.
Daly is now director of the Risk Assessment Program at Fox Chase and is also the Timothy R. Talbot Jr. Chair in Cancer Research. She is also a member of several advisory panels for the National Comprehensive Cancer Network.