This chair was established in 2012 by Carol and Louis Della Penna, two of Fox Chase Cancer Center's most generous and committed friends. Through this gift, the Della Pennas have transformed their own personal experience with cancer into the promise of future advancements in research, education, and patient care. This chair supports an outstanding leader in the field of head and neck oncology who represents the highest standards of excellence.
Chief, Head and Neck Surgery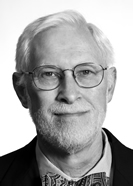 Dr. Ridge came to Fox Chase in 1991.
As a researcher, he has played a major role in the development and execution of important clinical trials that have led to improvements in quality of life for many patients with head and neck cancer.