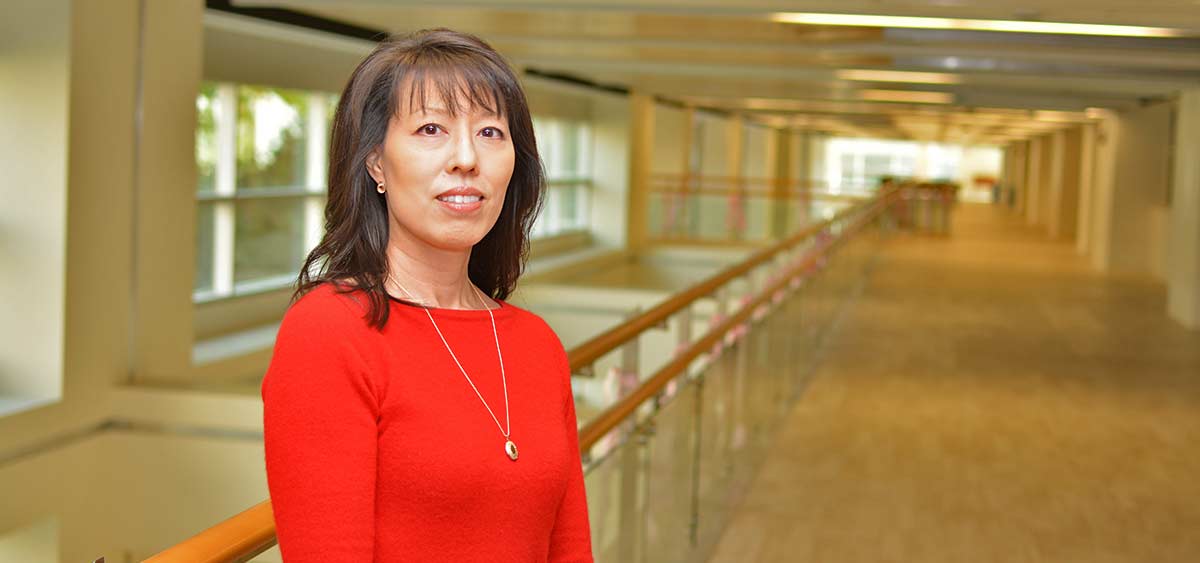 Groundbreaking Work in a Collaborative Environment
Carolyn Fang, PhD, grew up knowing that a career in behavioral health was for her.
The daughter of immigrants, Fang's family in suburban Connecticut stressed the importance of education early on. So for her, it seemed the obvious choice was to pursue a doctorate in her field of interest.
"I enjoy trying to understand human behavior. It's always been fascinating to me why we engage in some behaviors, but not others, and why we make the decisions we make," said Fang, a professor and co-leader of the Cancer Prevention and Control program at Fox Chase Cancer Center.
Fang received her undergraduate degree in psychology from Colgate University in New York in 1991. She went on to the University of California at Los Angeles, where she earned her master's degree and doctorate in psychology before moving back to the East Coast to be closer to her family.
Unlike many of her colleagues, Fang has spent her entire career at Fox Chase. She said the work environment was one in which she felt she could not only learn and be supported, but benefit from collaborating with peer scientists as well.   
"I didn't expect to remain so long at one institution, but this was a really great place to be a junior faculty member. The environment was supportive and collegial," said Fang. "I want to credit not only my mentors, but also the very strong community of female scientists who work here. The peer mentoring has been very valuable to me."
Fang recalled that when she began working at Fox Chase, she was already familiar with some of the research being conducted by top female scientists at the center, and was excited to know she would be learning from notable scientists she had studied in school.
"There are so many spectacular and wonderfully accomplished female leaders here. Fox Chase has always been known to be very strong in population science. Even before I arrived here, as a graduate student I was reading works from groundbreaking scientists who were here," Fang said.
"I was familiar with that work and I was very excited to come here. Suzanne Miller, who was one of my mentors, was very well established and well known. She's currently the editor of Translational Behavioral Medicine, one of the top journals in the field of behavioral medicine," she said. Miller is the director of Patient Empowerment and Decision Making at Fox Chase.
In addition to her other roles, Fang is a member of the Translational Research Disease Groups for esophagus, pancreas, and liver cancer; head and neck cancer; and ovarian and gynecological cancer. Translational Research Disease Groups are multidisciplinary teams of researchers and clinicians at Fox Chase who aim to identify translational research opportunities and initiatives in various types of cancer. Also, Fang was recently elected a fellow to the Society of Behavioral Medicine.
Working at Fox Chase has allowed Fang the unique opportunity to research behavioral health in connection with cancer. Much of Fang's research focuses on understanding how behavioral, biological, and psychosocial factors may interact to contribute to increased risk for cancer or other chronic diseases. Some of her work is focused specifically on underserved Asian American populations.
Fang said that incidence rates for some cancers are lower among Chinese who live in China, but rates may increase among Chinese who move to the United States. Additionally, Fang observed, these changes can occur relatively rapidly within first-generation immigrants.
"In some cases, we are seeing rapid increases in cancer risk in the migrating generation, so if we study that population very carefully, we might be able to identify key factors contributing to this increased risk," Fang said.
Fang credits Fox Chase's collaborative work environment and driven staff with encouraging her to pursue research in this particular niche. She said her interest in the subject combined with the support of her peer networks has made her work more meaningful and allowed her to thrive in her field. In the end, passion has been the key.
"I tell my students and mentees that they should pursue their passion because it makes coming to work every day a lot more fun, when you're working on something you really enjoy and that you're excited about," said Fang.
"The other thing I would say is to establish a solid peer network. That makes the whole journey more enjoyable, a lot more meaningful, and it can be helpful along the way when you do encounter barriers, to have that network of really smart people to give you advice and support, or just to listen."