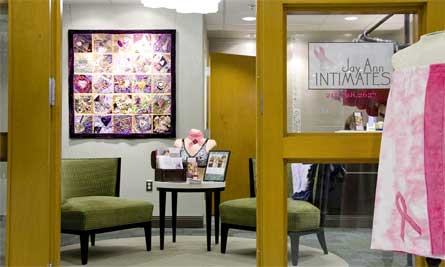 At Fox Chase Cancer Center, we treat the whole person— not just the disease. A crucial part of the treatment process is recovery.  Boo's is a specialty boutique helping patients during their cancer journey by offering breast prosthetics, bra fittings, clothing, skincare products and more.
Locations and Hours
Boo's Boutique is located on the first floor of Fox Chase's Young Pavilion (across from Karen's Korner Gift Shop). Boo's offers products and services during walk-in hours and by appointment.  See times below for the walk-in hours for breast prosthetics.  Appointments are also available for all services by calling 215-728-2627.
Breast Prosthetics, Bra Fittings, Apparel and More
Monday, Wednesday & Thursday, 9:30am–4pm or by appointment
Boo's Boutique is staffed by professional Certified Mastectomy Fitters who will assist in recapturing a natural silhouette.
Wig Fittings and Head Coverings
We want our cancer patients to feel confident, comfortable and self-assured while coping with the side effects of chemotherapy and radiation treatment. There are wig services available at a number of locations in the Philadelphia area by our approved vendors.