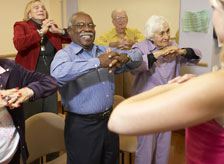 Fatigue, or feeling tired, is a common side effect of cancer treatments.
For many patients, fatigue improves and may be eliminated when treatment ends. For others, it lasts longer and may affect your concentration, energy levels and activities. 
Exercise is one way to help manage and improve fatigue.
You can also try a mindfulness approach. Mindfulness is learning how to be more self-aware and focused. It can help you make clear choices and deal with fatigue in a productive way.
Call 215-728-2592 for more information, or to sign up.
Fox Chase has a program to help with fatigue using both exercise and mindfulness. The program also includes advice on diet and lifestyle that can assist with improving fatigue.
Who should join the program?
Anyone who has received or is receiving cancer treatment and: 

has fatigue that interferes with activities, exercise, or thinking.
can walk for at least 10 minutes non-stop.
What can I expect if I join?
A 12-week program of group exercise, talks, and mindfulness sessions
Individualized instructions on exercises to do at home
Guest speakers who will talk about the best ways to deal with fatigue caused by treatment
What else do I need to know?
This program runs twice a year in the spring and fall.
A note from your physician stating that you can safely participate in an exercise program is required.
The cost is $60. Financial assistance is available to qualifying participants.
Call 215-728-2592 for more information, or to sign up.
What people who participated in the program have said about it
"I have gone to the gym for the first time. I mowed the lawn for the first time. My walking is great! And I enjoy life. Thank you!"
"Loved the program. Hate doing exercise, but did not mind it in a group. Both of you have been great!"
"This was eye-opening. I didn't think I could do as much as you got me to do. I will try to keep at it. Thank you!"
"The program was very informative. I'm very glad I joined. I would recommend it to anyone in my support group. I learned a lot from this program."